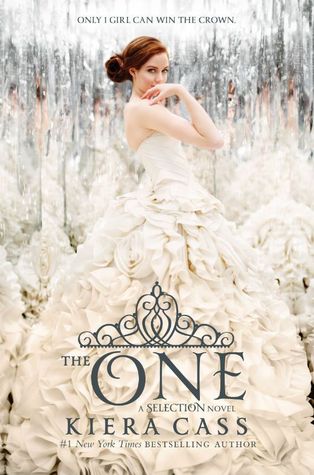 Author: Kiera Cass
Publication: May 6, 2014
By: Harper Teen
Amazon | Goodreads
4 Stars!
The Selection changed the lives of thirty-five girls forever. And now, the time has come for one winner to be chosen.

America never dreamed she would find herself anywhere close to the crown—or to Prince Maxon's heart. But as the competition approaches its end and the threats outside the palace walls grow more vicious, America realizes just how much she stands to lose—and how hard she'll have to fight for the future she wants.

From the very first page of The Selection, this #1 New York Times bestselling series has captured readers' hearts and swept them away on a captivating journey... Now, in The One, Kiera Cass delivers a satisfying and unforgettable conclusion that will keep readers sighing over this electrifying fairy-tale long after the final page is turned.
I think I spent a good twenty minutes just staring at this cover because it is GORGEOUS!

The stress I felt while reading THE ELITE had nothing on THE ONE. In fact, I only made it to Chapter 10 before I couldn't stand it anymore and I had to flip to the last chapter and Epilogue.
Once I knew how it ended, who, if anyone, America ended up with, I was able to go back and continue reading.

That said, it was still incredibly stressful, America still behaved in ways that made me want to shake some sense into her but she also grew on me. She was tough when she needed to be tough and gentle when she needed to be gentle. It was nice to see her make choices that didn't JUST directly affect her or her future.

I ended up loving Celeste and disliking Kriss even more. (I knew there was something up with her.) And even Aspen was less whiny.

And then there was Maxon...Be.Still.My.Heart.
To Maxon, from your fangirls everywhere...

Overall, I was really happy with the way this series ended. However, considering romance was a major plot point, it was disappointing to see the heart of it, the part without the tension, doubts and misgivings,

THE PART I HAVE SPENT THREE BOOKS WAITING FOR

, relegated to a mere seven pages in the Epilogue.
Favorite Quote(s):
"Has everyone been getting naked with Maxon?"
Apparently Harry and Maxon have something in common.
Just kidding! About Maxon at least.
"Break my heart. Break it a thousand times if you like. It was only ever yours to break anyway."