Welcome to Jenuine Cupcakes!
This is my stop on the Camp Payback Blog Tour which is being hosted by AToMR Tours.
Camp Boyfriend #2
Released April 29, 2014
By: Spencer Hill
4 STARS!
Amazon | Barnes and Noble
| Goodreads
Alex has big plans for camp this year, starting with making it the best summer ever. Having fun and breaking some rules will get her the payback she wants against her parents and her ex-boyfriend. Because of his disgusting texts, she's headed to a super strict all-girls school in the fall.

Then she meets Javier and revenge doesn't seem nearly as important as getting to know the troubled loner determined to keep a low profile at camp. But Alex's trouble-magnet personality and Javier's need to stay in the background don't mix nearly as well as their irresistible chemistry.

With her home life eroding under her feet and her last year of summer camp speeding to a close, Alex wants to make her mark on the world and squeeze every bit of fun out of her time with Javier. Too bad her old plans for revenge turn back on her just in time to ruin everything. Will she lose Javier too?
Pull up a log, grab a S'more (or a S'more cupcake) and let's get started!
I wasn't sure how I would feel returning to Camp Juniper Point knowing Matt and Seth wouldn't be there, but then Javier---
Wait.
What was I saying?
Oh right...cupcakes. ;)
Fast, fun and deliciously swoony, Camp Payback is a story about not letting your past define you and learning to see just how awesome you can truly be. But it's also about the consequences that come as a result of the choices we make.
Alex has spent her whole life cast in the role of the "The Troubled Child" on her parent's blog and thanks to a angry ex-boyfriend and a few unsavory texts he sends her, she's being shipped off to an all girls boarding school at the end of summer.
Not. Cool.
But instead of trying to make the most of what little freedom she does have left, Alex decides to use her time at Camp Juniper Point to get back at both her parents and Vijay.
She doesn't waste any time in implementing her plan, dragging an unsuspecting Javier along for the ride. The problem? Javier isn't at camp for the same reasons anyone else is. This is his one shot to prove himself and he can't afford to mess up. He certainly doesn't need some girl doing it for him, especially one whose stubborn, overly dramatic and more than a little pretty.
Alex and Javier are both strong characters who are well intentioned but often go about things the wrong way. Luckily for them, they're surrounded by people who love and care enough to help them figure out that, w
hile we can't control what other people do, we can control the choices we make.
As with the other books in the Camp Boyfriend series, there is a strong focus on friendship and loyalty, even to characters who might not be so deserving of it, and the romance is light, sweet and full of feels!
I'm really excited to see whose story we get next!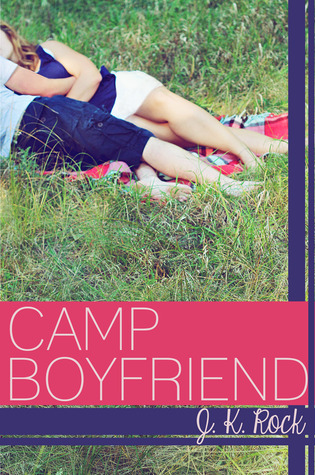 Camp Boyfriend (
Camp Boyfriend #1)
Publication: July 2, 2013
The summer of her dreams is about to get a reality check.
They said it couldn't be done, but geeky sophomore Lauren Carlson transformed herself into a popular girl after moving to a new school halfway across the country. Amazing what losing her braces and going out for cheerleading will do. Only trouble is, the popular crowd is wearing on Lauren's nerves and she can't wait to return to summer camp where she's valued for her brain instead of her handsprings. She misses her old friends and most of all, her long time camp-only boyfriend, Seth. This year she intends to upgrade their relationship to year-round status once she's broken up with her new, jock boyfriend, Matt. He doesn't even begin to know the real her, a girl fascinated by the night sky who dreams of discovering new planets and galaxies.
But Matt isn't giving her up without a fight. As he makes his case to stay together, Lauren begins to realize his feelings run deeper than she ever would have guessed. What if the guy she thought she was meant to be with forever isn't really The One? Returning to Camp Juniper Point was supposed to ground her uprooted life, but she's more adrift than ever. Everything feels different and soon Lauren's friends are turning on her and both guys question what she really wants. As summer tensions escalate, Lauren wonders if she's changed more than she thought. Will her first big discovery be herself?
About the Author
J. K. Rock is the pseudonym for YA writing partners - and sisters-in-law - Joanne & Karen Rock. Although they started out sharing an annual shopping trip, they ended up discussing their favorite films and books, joining the same book club and talking about writing... a lot. Their debut novel, Camp Boyfriend, is the first in a three-book series plotted during family pool parties. Their creative partnership is unique in that they enjoy passing a book back and forth, each adding a chapter and fine-tuning the chapter before. Years of friendship has yielded a shared voice and vision for their work that makes writing a pleasure.
Learn more about Karen and Joanne
a Rafflecopter giveaway