*snaps review and goes long*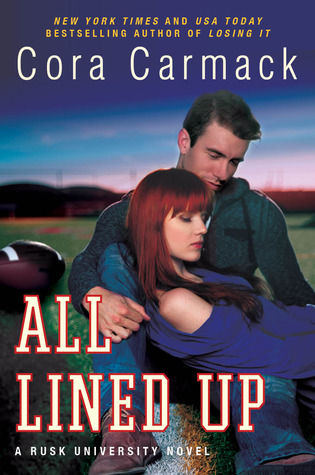 Author: Cora Carmack
Publication: May 13, 2014
By: William Morrow PB
Amazon | Goodreads
|
Barnes and Noble
5 STARS!

In Texas, two things are cherished above all else—football and gossip. My life has always been ruled by both.

Dallas Cole loathes football. That's what happens when you spend your whole childhood coming in second to a sport. College is her time to step out of the bleachers, and put the playing field (and the players) in her past.

But life doesn't always go as planned. As if going to the same college as her football star ex wasn't bad enough, her father, a Texas high school coaching phenom, has decided to make the jump to college ball… as the new head coach at Rusk University. Dallas finds herself in the shadows of her father and football all over again.

Carson McClain is determined to go from second-string quarterback to the starting line-up. He needs the scholarship and the future that football provides. But when a beautiful redhead literally falls into his life, his focus is more than tested. It's obliterated.

Dallas doesn't know Carson is on the team. Carson doesn't know that Dallas is his new coach's daughter.

And neither of them know how to walk away from the attraction they feel.
My Thoughts:
My initial reaction once I finished reading All Lined Up...
Cora Carmack is one of my favorite New Adult authors! I always look forward to her books because she has a way of writing characters who are not only flawed, but hilariously funny and easily relateable. All Lined Up is no different. In fact, out of all of her stories, I think this book is her best work yet!
Dallas Cole is guarded to say the least. Having spent years living with her dad, a hard-nosed football coach who only speaks "playbook", she learned a long time ago to keep her emotions in check. The only time she does allow herself to feel is when she's dancing.
But this is college and Dallas shouldn't be spending all of her time studying or stuck in the dance studio! She should be enjoying herself, meeting hot guys new people and kissing them having fun! Like her best friend with no filter Stella is. It's Stella who drags Dallas to the first party of the year, the one where she has an unpleasant run-in with her ex-boyfriend, and meets bad-boy Silas. But it's also where she meets the one person who will turn her life upside down in the best way possible.
Enter Carson McClain.
Tall, dark and driven, Carson has come to Rusk University for one thing and one thing only, football. He's determined to prove himself to the new coach and his teammates, whether it's logging extra hours in the gym, on the field or in the classroom.
He can't allow anyone or anything to distract him either because there is no back up plan.
When he meets Dallas though, he decides that maybe a little distraction isn't so bad. But then he finds out who she really is and it's a total game changer. For both of them.
One of the things I LOVED about this story (besides the kissing) is how hard both Dallas and Carson work to make the right choices. Choices that benefit both of them in the long run. Are they perfect? No, of course not. But it would be so easy for either of them to try and hold the other one back. Instead, they encourage each other to follow their dreams even at the risk that they may not end up together. (Notice I said, "may", so don't freak out. Yet.)
All Lined Up is not without it's deliciously swoony moments and it packs plenty of steam.
However, I appreciated the amount self-control Dallas and Carson showed and their reasons for doing so. It was refreshing and made those scenes all the more face fanning in my opinion.
I thought Cora Carmack did a beautiful job of portraying the relationship between Dallas and her father too. It's complex and difficult but steeped in love and one I could easily relate to.
All Lined Up is an excellent start to the Rusk University series and I'm really looking forward to the next installment! When I learned Book Two will be about Silas, I did this...
About Cora Carmack
Cora Carmack is a twenty-something writer who likes to write about twenty-something characters. She's done a multitude of things in her life-- boring jobs (like working retail), Fun jobs (like working in a theatre), stressful jobs (like teaching), and dream jobs (like writing). She enjoys placing her characters in the most awkward situations possible, and then trying to help them get a boyfriend out of it. Awkward people need love, too. Her first book, LOSING IT, is a New York Times and USA Today bestseller.
A couple of weeks ago, I had the chance to see Cora at the D.C. Author event and bring her cupcakes - FINALLY!
I bought my signed copy of ALL LINED UP which I started the next day and could.not.put.down!
And I got to snuggle with Hamlet too!
The guy behind me is totally judging me. ;)