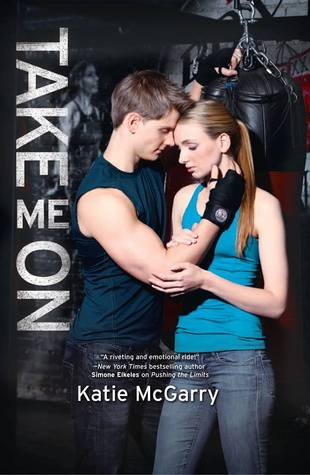 Author: Katie McGarry
Publication: May 27, 2014
By: HarlequinTEEN
4 Stars
Amazon | Goodreads
Champion kickboxer Haley swore she'd never set foot in the ring again after one tragic night. But then the guy she can't stop thinking about accepts a mixed martial arts fight in her honor. Suddenly, Haley has to train West Young. All attitude, West is everything Haley promised herself she'd stay away from. Yet he won't last five seconds in the ring without her help.

West is keeping a big secret from Haley. About who he really is. But helping her-fighting for her-is a shot at redemption. Especially since it's his fault his family is falling apart. He can't change the past, but maybe he can change Haley's future.

Hayley and West have agreed to keep their relationship strictly in the ring. But as an unexpected bond forms between them and attraction mocks their best intentions, they'll face their darkest fears and discover love is worth fighting for.
*I received this in exchange for an honest review*
While it's not necessary to have read the previous books in this series, Pushing The Limits, Dare You To and Crash Into You, I highly recommend that you do because those characters and their stories are pretty awesome. Plus, when they pop up in here, you'll know who they are and why they are significant.
I was lucky enough to score a hard copy thanks to Natashya Wilson, Executive Editor Extraordinaire at HarlequinTEEN and the first thing I did was take off the jacket. Why? Because Katie McGarry has some of the BEST covers in YA! (There is a different image printed across the front and back cover and it's awesome!)
When I read Crash Into You, I was really intrigued by Rachel's brother West and the glimpse we caught of Haley at the end made me even more excited to read their story.
Take Me On is the third book I've read recently with an MMA (Mixed Martial Arts) MC, but the first that featured a girl who can throw a punch and take a hit like a boss.
I was hooked.
I had high expectations of Haley and all her badassness. And while I enjoyed this one; it has the dual POV, well-written story with complex yet relateable characters I've come to love from Katie McGarry, it wasn't exactly what I was expecting.
Haley is a fighter. Her family is made up of fighters and yet, we see very little actual fighting going on. We see lots of training, which is good, and there's the one big match, but I guess I was expecting more bloody noses, black eyes and tap outs.
I mean, if you tell me a book is about a fighter, I'm going to feel like this...
Haley is a great character though, she's loyal, selfless and has the best intentions at heart. She and her immediate family have been through the wringer in the past couple of years and I understand her reasons for not wanting to get in the cage, but it still would've been cool to see her fight competitively.
West, like all of Katie McGarry's other book boys, broke my heart in the best way. He's a potty mouth with a short fuse but his heart is always in the right place. His story surprised me the most and the tough love his Dad doled out was hard to swallow at times, but they both are given the chance to redeem themselves.
The relationship that develops between West and Haley is fast, intense and full of feelings. They both come from emotionally charged situations but one of the things I MOST enjoy about Katie McGarry is that she doesn't just let her characters ride off into the proverbial sunset together. She makes them face and work through their issues, giving them a chance to be the best versions of themselves that they can be both together and separately.
And then there's Abby. She is the real badass of this entire series and THIS GIRL NEEDS HER OWN BOOK PRETTY PLEASE WITH SPRINKLES ON TOP! :)
The peek into the time after the INCIDENT at the end of Crash Into You and before that book's epilogue did my heart good because Isaiah...
Take Me On is a GREAT addition to the Pushing The Limits Series (you should read it) and I'm excited to see where Katie McGarry takes us next!