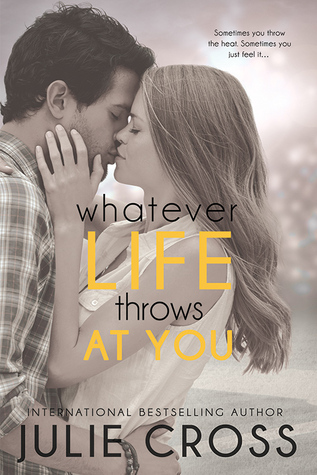 Publication: October 7, 2014
By: Entangled Teen
Amazon | Goodreads
5 Stars!
Life loves a good curveball…

Seventeen-year-old Annie Lucas's life is completely upended the moment her dad returns to the major leagues as the new pitching coach for the Kansas City Royals. Now she's living in Missouri (too cold), attending an all-girls school (no boys), and navigating the strange world of professional sports. But Annie has dreams of her own—most of which involve placing first at every track meet…and one starring the Royals' super-hot rookie pitcher.

But nineteen-year-old Jason Brody is completely, utterly, and totally off-limits. Besides, her dad would kill them both several times over. Not to mention Brody has something of a past, and his fan club is filled with C-cupped models, not smart-mouthed high school "brats" who can run the pants off every player on the team. Annie has enough on her plate without taking their friendship to the next level. The last thing she should be doing is falling in love.

But baseball isn't just a game. It's life. And sometimes, it can break your heart…
*I received this eARC from the publisher in exchange for an honest review*
What I LOVED: When I was asked to consider reading, Whatever Life Throws At You, I had recently finished several books that were heavy on the angst and light on the kissing. I needed something different to cleanse my reader palate. Something that was not only an engaging story with strong-willed, relateable characters who made me swoon, but something with humor and heart. Whatever Life Throws At You was just the "something" I was looking for!
Annie and Jason go from being frenemies of sorts to something more, but theirs is not a simple romance. They have his reputation to contend with along with the age difference which seems to be a bigger issue than necessary. (She's almost eighteen and he's barely out of his teens.) Not to mention her dad is his boss.
Both Jason and Annie's father have a lot riding on his (Jason's) success as a pitcher and the backlash from their relationship could be disastrous for everyone.
The

family dynamic is unique, entertaining and a little bit heartbreaking, but made me smile more often than not. And I liked watching Annie and Jason work through their insecurities as well as the consequences of their actions.
I'm not a big sport's fan, so any inaccuracies there may have been with the baseball element didn't make or break this story for me.
What Left Me Wanting More: The ecopy I had did not include the epilogue and despite being happy with the way things ended, I'm still curious about it.
Final Verdict:
"An irresistible story about family, first love and following your heart."