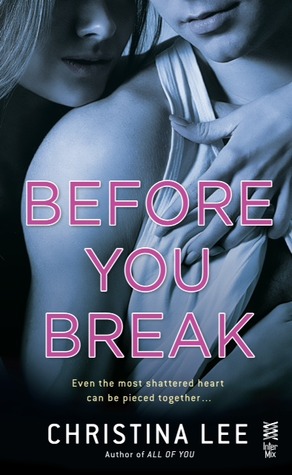 Series: Between Breaths #2
Author: Christina Lee
Publication: October 7, 2014
By: Intermix
A sexy, emotional New Adult romance about a bad boy on the edge and a good girl about to lose control…

The star catcher of the college baseball team isn't supposed to have skeletons in his closet. But Daniel Quinn is hiding a guilty past so dark he refuses to let anyone get close. Except there's something about gorgeous, studious Ella Abrams that goes beyond the electric attraction between them—something that makes him want to open up.

Ella has suffered enough heartache and guilt to fill one of her psychology textbooks, but she keeps that part of herself hidden behind a bubbly exterior. Until she receives an anonymous call while working the suicide helpline and the voice on the other end touches something inside of her that she can't ignore.

Soon Ella and Quinn's physical connection heats up, even as their deep and revealing hotline talks intensify. But by the time Ella realizes that her seductive jock and her sensitive caller are the same guy, it might be too late to save him—or to stop herself from falling too far.
*I received this from the publisher in exchange for an honest review*
**Due to language and content, this book is recommended for readers ages 18+**
After reading BEFORE YOU BREAK, the second book in the BETWEEN BREATHS series, three words come to mind: Poignant. Emotional. Hopeful.
This book addresses the topic of suicide and all of the emotions surrounding it; grief, guilt, love, but most importantly, hope.
Ella and Quinn have both been affected by tragedy, something that draws them together and goes beyond the physical attraction they share, but they've handled their feelings differently. Where Ella has been proactive, Quinn has internalized his feelings and suffers from a form of survivor's guilt. They try to find solace and comfort in each other but that only gets them so far.
I really appreciated (and liked) what Christina Lee did with these characters. It would have been easy to let them go the stereotypical, yet completely unrealistic route of let-me-fix-you-with-my-magical-body, but she didn't. Yes Ella and Quinn are attracted to each other, and yes they are steaming up the windows something fierce, BUT Lee makes sure her characters are smart enough to realize they can not fix each other.
In order for Ella and Quinn to have any chance at a real, long lasting relationship, they need to seek help elsewhere first. Having a grip on their own issues enables them to help each other move past the pain and onto happier places. Like steaming up windows or making sure no doors fall off their hinges. ;)
Another great addition to the BETWEEN BREATHS series.