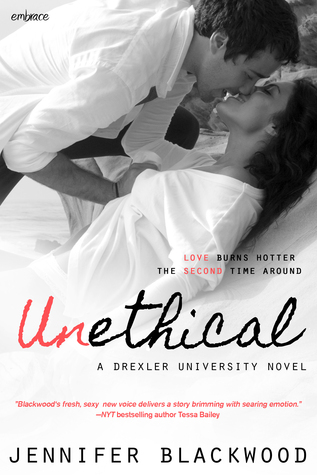 Author: Jennifer Blackwood
Publication: October 20, 2014
By: Entangled Embrace
Category: New Adult
Amazon | B&N | Goodreads
3.5 Stars!
Love burns hotter the second time around…

Two years ago, the medical world was shaken by scandal, and Payton Daniels's family was at the center of it. The second she graduated, Payton left everything behind―her high school sweetheart, her family, and the controversy surrounding her mother's death—and hid within the anonymity of college. But Payton's ex, Blake Hiller, hasn't forgiven her for leaving, and when he enrolls in the same medical ethics class, she panics. She can't run the risk of him telling everyone who she really is.

As if being at the same university isn't enough, both Blake and Payton land the same internship. Forced together, their passion for each other reignites, but when Payton is asked to testify in her father's high-profile trial, she must choose between risking her acceptance into medical school to help her father, and losing every connection to her past—including the only guy she's ever loved.
*I received this eARC from the author in exchange for an honest review*
It's not often that I read a book that could have been ripped from the headlines, but that's how I felt while reading Unethical. S
econd-chance stories are some of my favorites to read and I enjoyed watching Peyton and Blake work through their past mistakes, deal with their issues head-on and ultimately find a HEA.
There were a few spots that dragged for me, but overall this was an entertaining story. The college setting gave the story and it's characters and an authentic feel, and I think Unethical makes a nice addition to the New Adult genre.
~ About the Author~
Photo Credit: Author's Website
Jennifer Blackwood is an English teacher and New Adult author. She lives in Oregon with her husband, son, and poorly behaved black lab puppy. Her debut novel, UNETHICAL, comes out in October with Entangled Embrace.
Twitter | Facebook | Website | Goodreads