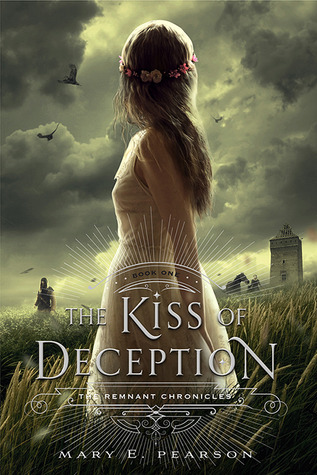 Series:

The Remnant Chronicles #1
Author: Mary E. Pearson
Publication: July 8, 2014
By: Henry Holt
Genre: YA Fantasy
Amazon | B&N | Book Depository | Goodreads
4.5 STARS!
In this timeless new trilogy about love and sacrifice, a princess must find her place in a reborn world.

In a society steeped in tradition, Princess Lia's life follows a preordained course. As First Daughter, she is expected to have the revered gift of sight—but she doesn't—and she knows her parents are perpetrating a sham when they arrange her marriage to secure an alliance with a neighboring kingdom—to a prince she has never met.

On the morning of her wedding, Lia flees to a distant village. She settles into a new life, hopeful when two mysterious and handsome strangers arrive—and unaware that one is the jilted prince and the other an assassin sent to kill her. Deception abounds, and Lia finds herself on the brink of unlocking perilous secrets—even as she finds herself falling in love.
*I received this from the publisher in exchange for an honest review*
THANK YOU KSENIA WINNICKI FOR SENDING ME THIS BOOK BECAUSE OHMYWOW!!!
THIS COVER IS GORGEOUS and SO on point with the story, I just want to stare at it all day long.
I can not say enough good things about this book. READ IT. And this is coming from someone who is not a huge fantasy reader. However, The Kiss Of Deception
is a b
eautifully written story that unfolds through multiple POVs with characters who come to life on the page. READ IT.
This is not your average we're-going-on-an-adventure-to-kill-rescue-the-princess-and-live-happily-ever-after-story. READ IT.
The plot is twisty turny and filled with love, loss, magic, and kissing.

READ IT.
Favorite Quote(s):
"I found her once. I would find her again."
"But remember child, we may all have our own story and destiny, and sometimes our seemingly bad fortune, but we're all part of a greater story too. One that transcends the soil, the wind, time...even our own tears."













READ IT!