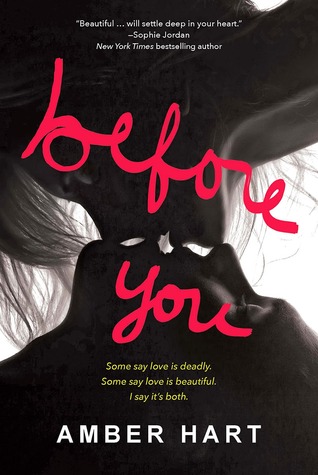 Series: Before and After Series
Author: Amber Hart
Publication: July 29th 2014
Some say love is deadly. Some say love is beautiful. I say it is both.

Faith Watters spent her junior year traveling the world, studying in exquisite places, before returning to Oviedo High School. From the outside her life is picture-perfect. Captain of the dance team. Popular. Happy. Too bad it's all a lie.

It will haunt me. It will claim me. It will shatter me. And I don't care.

Eighteen-year-old Diego Alvarez hates his new life in the States, but staying in Cuba is not an option. Covered in tattoos and scars, Diego doesn't stand a chance of fitting in. Nor does he want to. His only concern is staying hidden from his past—a past, which if it were to surface, would cost him everything. Including his life.

At Oviedo High School, it seems that Faith Watters and Diego Alvarez do not belong together. But fate is as tricky as it is lovely. Freedom with no restraint is what they long for. What they get is something different entirely.

Love—it will ruin you and save you, both.
*I received an eARC from the publisher in exchange for an honest review*
This series is edgier YA that gradually progresses into NA and I like that the covers reflect that. (At least to me they do.)
Before You is fast paced and engaging with alternating POVs that bring the characters of Faith and Diego to life. The prose has a rhythmic feel to it, almost like poetry, but the author uses a lot of flowery comparisons that, at times, were distracting.
I liked Diego and Faith, (as well as the supporting cast of Melissa and Javier) and I enjoyed watching them navigate the ins and outs of a forbidden relationship, which was surprisingly clean, and was eager to see where their journey would take them. But then there was a twist thrown in, that for me, felt too over the top and I almost stopped reading. Almost. I finished and was ultimately satisfied with how things worked out though.
This is a good start to a new series and
fans of
Simone Elkeles' Perfect Chemistry series will definitely want to check it out.