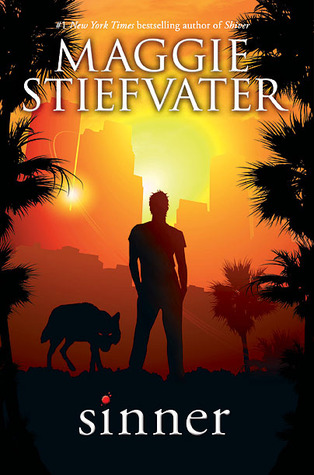 Series: Wolves of Mercy Falls
Author: Maggie Stiefvater
Publication: July 1, 2014
By: Scholastic Press
Amazon | Goodreads
4 Stars
A standalone companion book to the internationally bestselling Shiver Trilogy.


Sinner follows Cole St. Clair, a pivotal character from the #1 New York Times bestselling Shiver Trilogy. Everybody thinks they know Cole's story. Stardom. Addiction. Downfall. Disappearance. But only a few people know Cole's darkest secret -- his ability to shift into a wolf. One of these people is Isabel. At one point, they may have even loved each other. But that feels like a lifetime ago. Now Cole is back. Back in the spotlight. Back in the danger zone. Back in Isabel's life. Can this sinner be saved?
Thank you, Hannah from the Irish Banana for grabbing this one for me at ALA Vegas. Don't ask me how, but
I completely missed SINNER at BEA this year EVEN WHEN
I was at the Books of Wonder signing where Maggie Stiefvater stood up on the table to address to the crowd. *face palm*
I have been away from Mercy Falls for three years now, which equates to something like two decades in wolf years, right? Or is it the other way around? I can't remember. Either way, it's a really long time with a couple hundred books thrown in to muddy the waters of my bookish brain where Cole St. Clair and Isabel Culpepper are concerned.
I started SINNER, knowing full well I wouldn't be able to blast through it because Maggie Stiefvater is an author whose writing intimidates me in the best way possible. Once I made it about a third of the way through, I stopped, and had to go back to where it all began. I ended up downloading both the digital and audio copies of SHIVER, LINGER and FOREVER and proceeded to binge read/listen to them all within a span of 36 hours before finishing SINNER.
Maggie has said she considered herself finished with Mercy Falls when she wrote, FOREVER, and there is a part of me that wishes she had been, or that she had been able to publish SINNER before now.
Why?
Well, on the one hand, it does gives us the "what happened after" story with Cole and Isabel, but on the other hand, SINNER really is it's own story and almost feels like it has no place within the series at all.
Had I not read the other books first, I'm not sure I would have been as fully invested in Cole and Isabel like I was.
Cole is Cole. Witty. Engaging. Awesome. He's one of those characters that is virtually impossible NOT to love, but Isabel is the opposite. She's cold and harsh and unless
you know her back story, have watched her experience the pain and heartache that has made her the way she is, it can be difficult to care about her at all.
Don't get me wrong, I enjoyed SINNER, I did. It makes a great addition to the other books and there is definite closure, but, I don't know...I think I missed the paranormal element that was so prevalent in the other books.