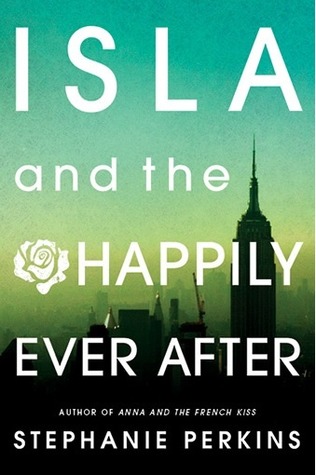 Series:
Anna and the French Kiss #3
Author: Stephanie Perkins
Publication: Dutton
By: August 14, 2014
Pre-Order Campaign
5 Stars!
From the glittering streets of Manhattan to the moonlit rooftops of Paris, falling in love is easy for hopeless dreamer Isla and introspective artist Josh. But as they begin their senior year in France, Isla and Josh are quickly forced to confront the heartbreaking reality that happily-ever-afters aren't always forever.

Their romantic journey is skillfully intertwined with those of beloved couples Anna and Étienne and Lola and Cricket, whose paths are destined to collide in a sweeping finale certain to please fans old and new.
THANK YOU LAUREN DONOVAN AND PENGUIN TEEN FOR THIS ARC!
*I owe you cupcakes the next time I'm in NYC*
Like most Stephanie Perkins' fans, I have been DYING for Isla and Josh's story and I'm happy to say it does not disappoint!
Isla And The Happily Ever After is intense, heart-wrenching romantic perfection!
I happen to love the original covers for this series and there's a tiny part of me that wishes the tradition had continued IF ONLY so I could catch a glimpse of Josh in all of his artsy broodishness. HOWEVER, the background of NYC and the green coloring is a great choice because it all ties into Isla and Josh's story. <3
This is a companion novel and sure, it can be read as a stand alone, but to fully appreciate the growth these two characters experience, AND to be able to understand the significance of certain things that happen (closer to the end), I think you HAVE to start with the other books first. Besides, they're both fun so why would you want to skip them?
This one is a little angstier than ANNA and LOLA, but in a good way. Isla and Josh's relationship - the one that finally develops after she works up the courage to speak to him while trippin' on pain killers - is fast, intense and at times, all-consuming. She struggles with insecurities, he tries to fill a void, and together they embark on a journey that spans several countries and a myriad of emotions. T

hey do balance each other out, which is good, but they also allow their feelings for one other to trump everything else--family, friends and school, which us unhealthy.
When circumstances force them apart, Isla and Josh both have to come to terms with the difference between loving someone (ugly parts and all), and loving the idea of someone. I thought this was crucial to their growth as individuals and as a couple. I would be remiss if I didn't mention Kurt because I really enjoyed his character! He was *different* seeing him portrayed in such a positive light was refreshing.
My only qualm with this story is that as it progressed, Isla and Josh felt less like teenagers and more like adults.
This really is a FANTASTIC ending to the series and I LOVE, LOVE, LOVED the way all three books were brought full circle! ;D
READ IT!!