*Due to strong language, strong sexual content and steamy covers, these books are NOT recommended for anyone under the age of 18.*
There's your warning. Please don't send me angrypants emails. :)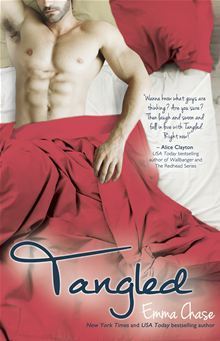 Tangled (Tangled #1)
Author: Emma Chase
Publication: August 2, 2013
By: Gallery
3.5 Stars/Purchased
Amazon | Goodreads
Drew Evans is a winner. Handsome and arrogant, he makes multimillion dollar business deals and seduces New York's most beautiful women with just a smile. He has loyal friends and an indulgent family. So why has he been shuttered in his apartment for seven days, miserable and depressed?

He'll tell you he has the flu.

But we all know that's not really true.

Katherine Brooks is brilliant, beautiful and ambitious. She refuses to let anything - or anyone - derail her path to success. When Kate is hired as the new associate at Drew's father's investment banking firm, every aspect of the dashing playboy's life is thrown into a tailspin. The professional competition she brings is unnerving, his attraction to her is distracting, his failure to entice her into his bed is exasperating.
Then, just when Drew is on the cusp of having everything he wants, his overblown confidence threatens to ruin it all. Will he be able untangle his feelings of lust and tenderness, frustration and fulfillment? Will he rise to the most important challenge of his life?

Can Drew Evans win at love?

Tangled is not your mother's romance novel. It is an outrageous, passionate, witty narrative about a man who knows a lot about women…just not as much as he thinks he knows. As he tells his story, Drew learns the one thing he never wanted in life, is the only thing he can't live without.
I'll admit, this falls outside my usual reading genre, but I decided to give Tangled a shot because it was recommended to me by someone whose opinion I trust. She also warned me that there would be language and some other elements I normally shy away from, but if I could look beyond those things, I would find an authentic, unique and hilariously entertaining story. And she was right. I've read quite a few male POVs but few of them have captured the male voice quite as well as this one!

From the outside, Drew Evans is a guy who has it all, looks, money and swag for millennia. But for all the pomp and circumstance that surrounds him, there is a softer side of Drew that few get to see. Until he meets Kate. She is the first woman to challenge him is every way possible and being inside his head while he navigates the ups and downs of their relationship was a ride I won't soon forget.
The writing style took a little getting used to, but I liked it. I felt as if I was listening to Drew tell me his life story over coffee and cupcakes. I'm looking forward to seeing what comes next for both of these characters!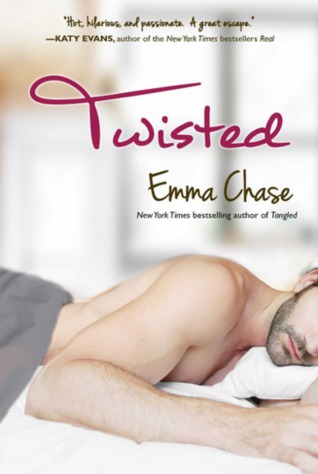 Twisted (Tangled #2)
Publication: March 25, 2014
By: Gallery
3.5 Stars
Amazon | Goodreads
There are two kinds of people in the world. The ones who look first, and the ones who leap. I've always been more of a looker. Cautious. A planner. That changed after I met Drew Evans. He was so persistent. So sure of himself – and of me.

But not all love stories end happily ever after. Did you think Drew and I were going to ride off into the sunset? Join the club. Now I have to make a choice, the most important of my life. Drew already made his –in fact, he tried to decide for the both of us. But you know that's just not my style. So I came back to Greenville. Alone. Well, sort of alone....

What I've come to realize is that old habits die hard and sometimes you have to go back to where you began, before you can move ahead.

TWISTED picks up two years after Tangled's end, and is told from Kate's POV.
*I received a copy of Twisted from the publisher in exchange for an honest review*
We get to see the next chapter in Drew and Kate's story unfold through Kate's POV. It was nice that there was a significant time span too as the story picks up two years after the end of the first book. One of the things I enjoy about this series is knowing I can get through the books in one sitting without sacrificing any of the story. Emma Chase manages to pack a lot of emotion and detail into a relatively short amount of time but I'm not left feeling unfulfilled in any way.
This part of the journey was difficult to read at times primarily because Chase makes her characters suffer their own short-comings. But I'm glad she did. It makes Drew and Kate and their story that much more believable. Plus, she more than makes up for it with the Epilogue which I pretty much snort-laughed my way through. :)
TAMED (July 15, 2014) is next in the series followed by TIED (October 7, 2014 - my birthday!) both of which I'm eager to read!