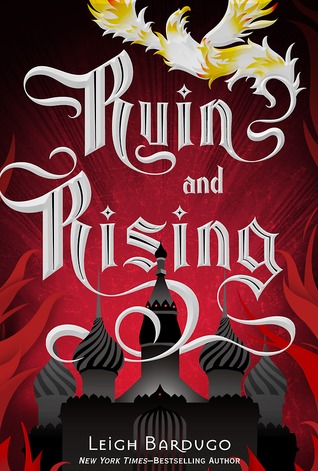 Publication: June 17, 2014
By: Henry Holt
Goodreads
*incoherent feels*
The capital has fallen. The Darkling rules Ravka from his shadow throne.

Now the nation's fate rests with a broken Sun Summoner, a disgraced tracker, and the shattered remnants of a once-great magical army.

Deep in an ancient network of tunnels and caverns, a weakened Alina must submit to the dubious protection of the Apparat and the zealots who worship her as a Saint. Yet her plans lie elsewhere, with the hunt for the elusive firebird and the hope that an outlaw prince still survives.

Alina will have to forge new alliances and put aside old rivalries as she and Mal race to find the last of Morozova's amplifiers. But as she begins to unravel the Darkling's secrets, she reveals a past that will forever alter her understanding of the bond they share and the power she wields. The firebird is the one thing that stands between Ravka and destruction—and claiming it could cost Alina the very future she's fighting for.
I've been trying to put my feelings about this book into words for almost a week now and I keep FAILING. I am not usually a big fan of fantasy but Shadow and Bone (Book 1) was my favorite read of 2012 and Siege and Storm (Book 2) was a worthy sequel, but this...THIS book, this finale was FANTASTIC!
My final Goodreads update:
That was a stressful book but ohmyword, that ending was absolute perfection. Even if it did try to kill me. LOVE!
Thank you, Leigh Bardugo, for staying true to the "rules" of the world and the characters you created yet still managing to pull off an ending that left me shocked, amazed and so stinking happy I ugly-SOBBED!
I'm still a proud member of
Team Malarklinghond =
The Darkling + Mal + Nikolai,
but the way you worked out the "love situation" was just...
Not to mention how you handled that one part where *things* happen, especially with that one character, the one I wasn't sure could or even deserved to be redeemed in any way, shape or form. The one who kinda looks like this in my head....
Thank you for not making me feel weird, or icky wrong for obsessing caring about him.
I'd totally go Grisha for him. Still. ;)
And OHMYGRISHA THAT EPILOGUE...