Welcome to another Fast & Furious Friday,
where I highlight a few of the books I've read this week.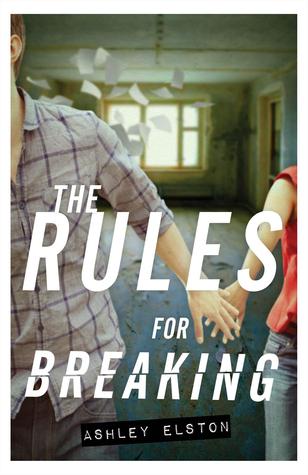 The Rules for Breaking (The Rules for Disappearing #2) by Ashley Elston
Publication: May 20, 2014
By: Disney-Hyperion
Amazon | Goodreads
Anna Boyd almost lost her life to get what she wanted most in the world: freedom.

But just when it seems that her family has finally escaped Witness Protection, the illusion that Anna could resume a normal life comes crashing down.

The deadly man Anna knows as Thomas is still on the loose, and now he's using her as a pawn in a dangerous game with the drug cartel determined to silence her forever. When Thomas and a mysterious masked man capture not only Anna but also her fragile younger sister and her boyfriend, Anna decides it's time to break all the rules-even if it means teaming up with the lesser of two evils.

Anna will do whatever it takes to protect the people she loves and win her life back once and for all. But her true enemies are hidden in plain sight. Before long, Anna will learn that putting her trust in anyone may be the last mistake she ever makes.
*I received a copy of this from the author in exchange for an honest review*
I really enjoyed this! Fast-paced, action packed and full of swoon, The Rules For Breaking is the perfect end to Anna's story. The twists and turns kept me reading well into the night and the part involving the car ride with Emma CRACKED ME UP! Probably because I would be the adult version of her, but still.

I wish the Epilogue had been all about Ethan Landry a little longer but I was happy with how everything was brought full circle and worked out!



Publication: May 13, 2014


By: Create Space
Inconsequential: not important or significant.
Synonyms: insignificant, unimportant, nonessential, irrelevant

In the world of genetic mutation, Gypsy's talent of knowing a person's age of death is considered a failure. Her peers, the other Cavies, have powers that range from curdling a blood still in the vein to being able to overhear a conversation taking place three miles away, but when they're taken from the sanctuary where they grew up and forced into the real world, Gypsy, with her all-but-invisible gift, is the one with the advantage.

The only one who's safe, if the world finds out what they can do.

When the Cavies are attacked and inoculated with an unidentified virus, that illusion is shattered. Whatever was attached to the virus causes their abilities to change. Grow. In some cases, to escape their control.

Gypsy dreamed of normal high school, normal friends, a normal life, for years. Instead, the Cavies are sucked under a sea of government intrigue, weaponized genetic mutation, and crushing secrets that will reframe everything they've ever been told about how their "talents" came to be in the first place.

When they find out one of their own has been appropriated by the government, mistreated and forced to run dangerous missions, their desire for information becomes a pressing need. With only a series of guesses about their origins, the path to the truth becomes quickly littered with friends, enemies, and in the end, the Cavies ability to trust anyone at all.
*I received a copy of this from the author in exchange for an honest review*
Detailed world building, interesting characters and a unique take on superpowers, Gypsy is a great start to a new series! Fans of YA paranormal and the X-Men in particular will want to pick up!
Publication: July 15, 2015
Genre: New Adult (Ages 18+)
Olivia Warren used to be a normal girl with a bright future.
But on one fated night, everything changed.

Hiding the scars of her past up her sleeves, Olivia transfers her enrollment from Columbia University to The College of Charleston, determined to pursue her own dreams for the first time in her life.

She intends to allow herself a bit of alone time to heal... that is, until she meets Preston.

Preston is best friends with her roommate, completely hot, and off-limits. But the chemistry between them is instantaneous—and as the pair begins to spend more time with one another, their feelings for each other build into something undeniable, something powerful enough to heal Olivia's deepest scars.

Olivia tries to put her own past behind her and trust Preston, but she discovers that his past might be more present than she ever bargained for…
*I received a copy of this from the Publisher in exchange for an honest review*
I am a BIG fan of Melissa West's, Gravity, a YA Sci-Fi trilogy and was really excited to read her New Adult debut, Pieces Of Olivia. It has everything NA readers want; love, loss, romance and face fanning sexy times.

The twist, which I figured out early on, is different and more than a little awkward. I'm not sure how I would feel if I was in Olivia's position, but that's just me. The characters are enjoyable (especially Preston) and I liked the underlying theme of forgiveness.

A preview of the next installment in this series is included and promises a hot guy with an accent. Fans of New Adult should definitely give this one a chance.
1 Signed ARC of GYPSY (THE CAVY FILES #1) by Trisha Leigh
Must be 13 years old to enter
a Rafflecopter giveaway