Let's Get Lost by Adi Alsaid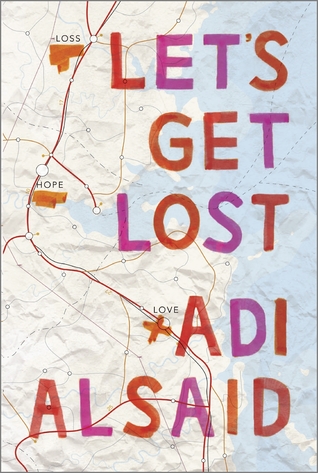 Publication: July 29, 2014
By: HarlequinTEEN
4 Stars!
Amazon | Book Depository | Goodreads
Five strangers. Countless adventures.One epic way to get lost.

Four teens across the country have only one thing in common: a girl named LEILA. She crashes into their lives in her absurdly red car at the moment they need someone the most.

There's HUDSON, a small-town mechanic who is willing to throw away his dreams for true love. And BREE, a runaway who seizes every Tuesday—and a few stolen goods along the way. ELLIOT believes in happy endings…until his own life goes off-script. And SONIA worries that when she lost her boyfriend, she also lost the ability to love.

Hudson, Bree, Elliot and Sonia find a friend in Leila. And when Leila leaves them, their lives are forever changed. But it is during Leila's own 4,268-mile journey that she discovers the most important truth— sometimes, what you need most is right where you started. And maybe the only way to find what you're looking for is to get lost along the way.
I've been fortunate enough to have had several copies of this book land in my hands over the past few months, and each one has been "pushed" onto someone else, usually with the tagline, "This is the most unique road trip book I've read to date. Read it. You'll like it. I promise."
What makes Let's Get Lost unique, is how readers get to watch Leila's story unfold through the eyes of the four teenagers she meets
as she travels her way across the country. She never stays for long, but she always leaves a piece of herself when she goes. The thing I liked BEST about this story is how it shows that all of us have an impact on the lives of the people we come in contact with, however brief.
On The Edge by Allison Van Diepen
Publication: November 25, 2014
By: Harper Teen
Amazon | Goodreads
3.5 Stars
From Allison van Diepen, author of Snitch and Street Pharm, comes a sexy, dangerous novel about a teen who witnesses a murder and gets caught up in the seedy world of Miami's gangs.

Maddie Diaz never should have taken that shortcut through the park. If she hadn't, she wouldn't have seen two members of the Reyes gang attacking a homeless man. Now, as the only witness, she knows there's a target on her back.

But when the Reyes jump her on the street, Maddie is protected by a second gang and their secretive leader, Lobo, who is determined to take down the Reyes himself. Lobo is mysterious and passionate, and Maddie begins to fall for him. But when they live this close to the edge, can their love survive?

On the Edge is a compelling story about fighting for what's right and figuring out where you belong. The novel showcases a gritty, realistic voice and earth–shattering romance that will intrigue readers of Simone Elkeles and Paul Griffin and captivate fans of Allison van Diepen's other novels.
This was my first Allison Van Diepen book. Fast paced, intense and realistic, On The Edge features strong characters, both male and female, who stand up for what is right even when it comes at great cost to themselves.
The secondary characters are interesting too and I wouldn't mind seeing Manny get his own story too. The gang aspect was a good blend of fiction and reality and lends just enough fear to the story without feeling over the top. It also has plenty of kissing - always a plus!
Anatomy of a Misfit by Andrea Portes
Publication: September 2, 2014
By: Harper Children's
4 Stars!
Amazon | Goodreads
This emotional, hilarious, devastating, and ultimately triumphant YA debut, based on actual events, recounts one girl's rejection of her high school's hierarchy—and her discovery of her true self in the face of tragedy.

Fall's buzzed-about, in-house favorite. Outside, Anika Dragomir is all lip gloss and blond hair—the third most popular girl in school. Inside, she's a freak: a mix of dark thoughts, diabolical plots, and, if local chatter is to be believed, vampire DNA (after all, her father is Romanian). But she keeps it under wraps to maintain her social position. One step out of line and Becky Vilhauer, first most popular girl in school, will make her life hell. So when former loner Logan McDonough shows up one September hotter, smarter, and more mysterious than ever, Anika knows she can't get involved. It would be insane to throw away her social safety for a nerd. So what if that nerd is now a black-leather-jacket-wearing dreamboat, and his loner status is clearly the result of his troubled home life? Who cares if the right girl could help him with all that, maybe even save him from it? Who needs him when Jared Kline, the bad boy every girl dreams of, is asking her on dates? Who?

Anatomy of a Misfit is Mean Girls meets The Perks of Being a Wallflower, and Anika's hilariously deadpan delivery will appeal to readers for its honesty and depth. The so-sad-it's-funny high school setting will pull readers in, but when the story's dark foreboding gradually takes over, the devastating penultimate tragedy hits like a punch to the gut. Readers will ride the highs and lows alongside funny, flawed Anika—from laughter to tears, and everything in between.
This book...Witty, honest and utterly heartbreaking.

Read it.