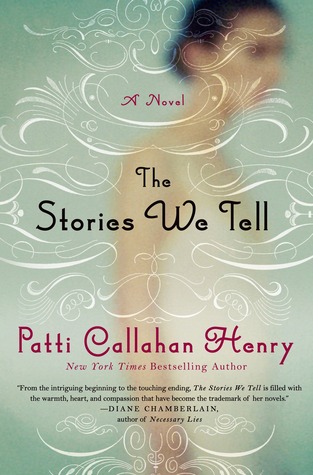 New York Times bestselling author Patti Callahan Henry
Publication:

June 24, 2014
By:
St. Martin's Press
Amazon | Book Depository | Goodreads
4 Stars!
Bestselling author Patti Callahan Henry is back witha powerful novel about the stories we tell and the people we trust.
Eve and Cooper Morrison are Savannah's power couple. They're on every artistic board and deeply involved in the community. She owns and operates a letterpress studio specializing in the handmade; he runs a digital magazine featuring all things southern gentlemen. The perfect juxtaposition of the old and the new, Eve and Cooper are the beautiful people. The lucky ones. And they have the wealth and name that comes from being part of an old Georgia family. But things may not be as good as they seem. Eve's sister, Willa, is staying with the family until she gets "back on her feet."
Their daughter, Gwen, is all adolescent rebellion. And Cooper thinks Eve works too much. Still, the Morrison marriage is strong. After twenty-one years together, Eve and Cooper know each other. They count on each other. They know what to expect. But when Cooper and Willa are involved in a car accident, the questions surrounding the event bring the family close to breaking point. Sifting between the stories—what Cooper says, what Willa remembers, what the evidence indicates—Eve has to find out what really happened. And what she's going to do about it. A riveting story about the power of truth, The Stories we Tell will open your eyes and rearrange your heart.
This is a story about family, friends and love, the kind we lose, the kind we gain and the kind that changes over time. It's fast paced, well written with interesting characters, and plot twists and turns that kept me reading long into the night. The Stories We Tell also examines the power of the truth and the effect it has not just on our lives, but on the lives of those around us too.
Patti Callahan Henry is a New York Times bestselling storyteller of eleven books, including Between the Tides, And Then I Found You, and Driftwood Summer. Patti lives in Mountain Brook, Alabama with her husband and three children, where she is crafting her next story.










Interview
Thank you so much for joining me today, Patti!
1)
Where does most of your writing inspiration come from?
Life. Everything. Every where I turn I see something I want to write about, something I wonder about, something that makes me ask, "I wonder what happens next?" Of course one in a million of these things turns out to be good enough for a story, but all of it, all of this life is inspiration to me.
2) Are you a plotter or a panster?
Total panster. I try, desperately try, to be a plotter. I'm trying right now and I have a headache.
3) What does your writing space look like?
I'm in the attic of our house. It's covered in books and papers and piles and photos and quotes and...well, you get it. My office is all white and cluttered with the chaos of anything I find inspiring, interesting or humorous. There are rocks, feathers, pictures, torn pages, notes and letters.
4) What is the best writing advice you've ever received?
This is really hard to answer and I bet if I sat down tomorrow to answer this again I'd have a different answer. But for now, I will say this: In Stephen King's book On Writing he talks about writing with the door closed and then with the door open. I was writing that way already, but he confirmed its wisdom. I still do it that way!
5) What is the last book that you read and absolutely loved?
Happiness For Beginners by Katherine Center.
6) I ask this one of all the authors who stop by my blog...
Cupcakes, brownies or ice cream? Cupcakes in every shape, size, color and flavor.
I knew I liked you! ;)