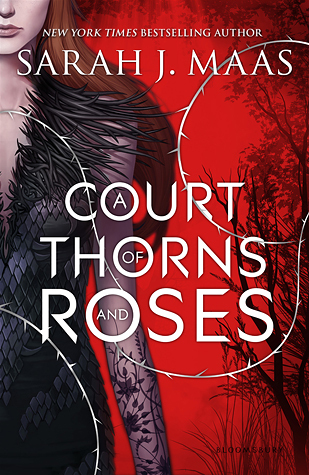 Series: A Court of Thorns and Roses #1 (#ACOTAR)
Author:
Sarah J. Maas
Publication: May 5, 2015
By: Bloomsbury Children's
Amazon | B&N | The Book Depository | Goodreads
A thrilling, seductive new series from New York Times bestselling author Sarah J. Maas, blending Beauty and the Beast with faerie lore.

When nineteen-year-old huntress Feyre kills a wolf in the woods, a beast-like creature arrives to demand retribution for it. Dragged to a treacherous magical land she only knows about from legends, Feyre discovers that her captor is not an animal, but Tamlin—one of the lethal, immortal faeries who once ruled their world.

As she dwells on his estate, her feelings for Tamlin transform from icy hostility into a fiery passion that burns through every lie and warning she's been told about the beautiful, dangerous world of the Fae. But an ancient, wicked shadow grows over the faerie lands, and Feyre must find a way to stop it . . . or doom Tamlin—and his world—forever.

Perfect for fans of Kristin Cashore and George R. R. Martin, this first book in a sexy and action-packed new series is impossible to put down!
Welcome to the Masquerade Ball

of Cupcakes!
*All cupcake photos are property of Jenuine Cupcakes.
**Tom Hardy belongs to Google.
A delicious mix of bitter and sweet like Lucien.
Dark Chocolate Cherry Cupcake
Dark and mysterious with a hint of bitterness, like Rhysand, this dark chocolate cake with a cherry filling is sure to entertain your tastebuds all night long.
Strawberry Lemonade Cupcake
Lemon cake with fresh strawberry buttercream frosting. Spring is about fresh starts and new life, but it still has a bite to it.
Vanilla Coconut Shimmer Cupcake
Vanilla coconut cake with frosting that shimmers like snowflakes.
Unfortunately, the camera did not pick up the shimmer.
Graham Cracker S'mores Cupcake
Summer just isn't summer without s'mores!
Graham cracker cake with a layer of chocolate and topped with toasted marshmallow frosting.
Here's what you need to know about this book:
Chapter 27. That is all.
Okay, so not really. There is more--A LOT MORE--I could say about this book, but every time I try to focus on the beautiful writing or Sarah J. Maas' ability to create a world I want to live in forever and ever, I get distracted by Chapter 27.
If you like fairytale retellings with a bite of magic, then you WANT THIS BOOK IN YOUR LIFE.
"Dead chickens, my sagging a**. All you needed to do was offer it a new robe, and it would have groveled at your feet."
"I love you," he whispered, and kissed my brow. "Thorns and all." <---Lawd hammercy...this chapter though.
Sarah J. Maas is the author of the New York Times bestselling Throne of Glass series: Throne of Glass, Crown of Midnight, and Heir of Fire, and the series' prequel, The Assassin's Blade; as well as the A Court of Thorns and Roses series. A New York native, Sarah currently lives in Pennsylvania with her husband and dog. Visit her online at
sarahjmaas.com
or follow her on Twitter at @SJMaas or Facebook at facebook.com/throneofglass. And find a whole world to explore on Tumblr at
worldofsarahjmaas.com
.
May 5

: Perpetual Page Turner – Blog Tour Kick Off with Sarah!
May 5

: Lili's Reflections – Top Five Fairytale Retellings
May 5

: Words Read and Written
May 6

: Bookish Broads – Lightning Round
May 6

: Dark Readers
May 6

: Fiction in Fiction in Fiction
May 7

: Paper Riot – An Interview with Sarah
May 8

: Polished Page-Turners – Would You Rather…
May 8

: So Many Books, So Little Time
May 8

: Behind the Pages
The Masquerade Ball!
May 11

: Novel Sounds & Alexa Loves Books – The Soundtrack
May 12

: Icey Books & That Artsy Reader Girl – The Decorations
May 13

: Jenuine Cupcakes & Writer of Wrongs – The Food
May 14

: What Sarah Read & Andi's ABCs – The Clothing
May 15

: Fiction Fare & Belle of the Literati – The Casting Call
a Rafflecopter giveaway