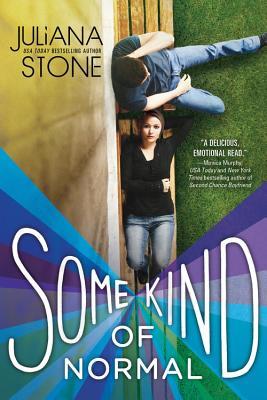 Companion to Boys Like You
Author: Juliana Stone
Publication: May 5, 2015
By: Sourcebooks Fire
Amazon

|

Apple

|

B&N

|

BAM

|

!ndigo

|

IndieBound

|

Kindle
4.5 Stars!
What is Norma
l?

For Trevor normal was fast guitar licks, catching game-winning passes and partying all night. Until a car accident leaves Trevor with no band, no teammates and no chance of graduating. It's kinda hard to ace your finals when you've been in a coma. The last thing he needs is stuck-up Everly Jenkins as his new tutor—those beautiful blue eyes catching every last flaw.

For Everly normal was a perfect family around the dinner table, playing piano at Sunday service and sunning by the pool. Until she discovers her whole life is a lie. Now the perfect pastor's daughter is hiding a life-changing secret, one that is slowly tearing her family apart. And spending the summer with notorious flirt Trevor Lewis means her darkest secret could be exposed.
* I received this eARC from the publisher in exchange for an honest review*
Wow, what a good kick in the feels THAT was!
We briefly meet Trevor in Boys Like You but it's not necessary to have read that one before reading and enjoying this one. Although, I highly recommend it because it's good too!
I love this cover! It really captures the essence of the story and the characters of Trevor and Everly, right down to what they're wearing.
Some Kind of Normal is told from alternating POVs giving readers a front row seat to both Trevor and Everly's lives. Trevor's involves doctor's visits, medicine and the reality of life after a traumatic brain injury.
And Everly has been keeping a year long secret, one that could blow a giant hole in her picture perfect family if it gets out.
Even though Trevor and Everly know each other--they've lived in the same small town and gone to the same school all their lives--they don't really know each other. The more time they spend together though, the more they start to realize they're both struggling, both trying to find a new normal.
I really enjoyed watching the relationship blossom between these two. It was sweet and vulnerable. The family dynamic are pretty stellar too. Both fathers are present and involved and very clearly love their kids and want what's best for them.
This was an emotional story that broke my heart a time or two, but it also made me smile. It's filled with love, forgiveness, understanding, and hope. Read it.
~ Excerpt~
"Me?" I had to laugh at that. Wow. Before last year that would have been grounds for major punishment. Heck, up until my senior year, I hadn't been allowed to wear lip gloss. Now I wasn't so sure that my mom would even notice, and since I avoided my dad whenever I could…
"No," I said, shaking my head. "My skin is untouched."
His eyes widened a bit, and I felt heat creep up my neck. Great. Now I was blushing again.
"Untouched," he said with that lopsided smile that made my stomach dip. "I like that."
"Yep. A clean slate. There's something almost poetic about that, you know? Tragic too. How many people get a do--over?"
Trevor reached for my hand, and though my first instinct was to snatch it back, his long fingers enveloped mine before I had the chance. He turned my hand over so that my palm faced up and then traced the little blue lines that ran down my wrist.
I can't lie. It felt weird and good, and my heart took off once more, so fast that I was surprised he couldn't hear it.
"This is…kind of…like ink," he said, his words a little slow as if he was thinking hard. "But it's alive."
He glanced up again, and all I could do was nod before my eyes dropped to his hand. Mine was still there, small and pale next to his large palm and tanned skin. I saw the thin blue veins that ran down my wrist, the ones that carried blood from my heart, electrifying my cells and feeding my body.
His thumb rested just beneath my pulse, and I swallowed thickly. Crap, he was going to feel how fast it was, and that would be embarrassing.
"Your fingers are rough." I blushed harder and thought that there was no way I could sound any more like an idiot. Not even if I was trying.
"Yeah," he answered. "It's from playing guitar. I practice a lot so my calluses are nice and strong."
Wow. Good comeback. I guess it was better than a clarinet or trombone, but really. Dork much?
…Had he always looked this intense?
"What?" he asked. He smiled again and I thought that on a scale of one to ten, his smile was a total eleven. "You're into the classics. That's cool. Didn't picture that."
"Really. What exactly did you picture?" Shoot. Did I really want to hear this?
"I don't know. PBS and that Jane Austen?"
Okay. First off, I was impressed that he knew who Jane Austen was, and secondly…he knew who Jane Austen was!
I dropped my eyes, because I was pretty sure that my cheeks were as red as the roses planted just outside the library. Trevor Lewis wasn't anything like what I thought he'd be. He wasn't stupid and he wasn't arrogant. He wasn't slow or weird.
He seemed pretty normal to me.
You know, for a guy with tattoos and blue hair.
NEW IN PAPERBACK! Boys Like You
Nate Everet's life was all about acoustic guitar, girls in short shorts, and hot Southern nights.Until the accident.
Monroe Blackwell's life was full of soccer goals, flirty skirts, and bright city lights. Until the accident.
Now Nate has a best friend who might never wake up, a summer of community service, and enough guilt to drown him. Monroe has a family that's falling apart, a summer of banishment to her grandma's, and a choking grief that makes it hard to breathe.
Nate and Monroe are two lost souls struggling with grief and guilt. But together, they have a chance at acceptance and finally finding the forgiveness they crave.
~ About the Author~
USA Today

bestselling author

Juliana Stone fell in love with her first book boyfriend when she was twelve. The boy was Ned, Nancy Drew's boyfriend, and it began a lifelong obsession with books and romance.
A tomboy at heart, she split her time between baseball, books, and music-three things that carried over into adulthood. She's thrilled to be writing young adult as well as adult contemporary romance, and does so from her home somewhere in Canada.
~ Giveaway~
a Rafflecopter giveaway