Welcome to my stop on the NOWHERE BUT HERE Blog Tour!
I'm so excited to be able to share the start of Katie McGarry's brand new THUNDER ROAD series with you.
~ Author Q+A ~
1) I'm really excited about your new series, Thunder Road! Who was the most difficult character to write?
In Nowhere But Here, Oz was the most difficult character for me to write. In this book, someone he loves dearly, someone who is like a mother to him, is dying.
Growing up, I had the most epic friendship. Tiffany and I had been a duo our entire lives. It's rare for me to have a memory that doesn't include her. I loved her…like a best friend, like my sister, like a part of my soul.

She had a genetic disease that unfortunately took her life. I watched her battle this disease for years and losing her was like losing a part of my soul. I gave Oz my sadness, frustration, grief, and then appreciation for the amazing life I had because I had been blessed, if even for a short time, to have someone so incredibly special in my life. I also gave him the hope that after experiencing such a loss that we can still find happiness.
2) I've read where you like to have a hands-on research experience when working on your books. You've been to a race, taken kickboxing, etc. for your Pushing The Limits series. What kind of research did you do for Nowhere But Here?
I LOVE doing hands on research for my books. For Nowhere But Here, I asked then received permission to hang out with a motorcycle club. The experience was unreal. I was expecting the hardcore biker guys and the parties, but I was blown away by the sense of loyalty, love of family and community, and the brotherhood ever present with this group.

These were men were brought together over their love of motorcycles and the need to belong to this family. The club I visited was a legit club, meaning they don't participate in illegal activities, and they were absolutely awe-inspiring with their love of family. I took this part of the club and used it as inspiration in Oz and Emily's story.

3) If Emily and Oz had their own themes songs, what would they be?

I love this question! I'm heavily influenced by music and have a playlist in the back of Nowhere But Here. The song for Oz would be "Hey Brother" by Avicii. This song is a personal favorite of mine, but the entire song represents the motorcycle club that Oz wants to be a part of—the Reign of Terror. They are a close group of men who are like a family to each other. The lyric: "If they sky comes falling down, for you, there's nothing in this world I wouldn't do." That sums up Oz and the Reign of Terror perfectly.

For Emily I choose Jewel's "Standing Still." The song, to me, represents someone who is going through a particularly rough life journey and they are questioning everything they have been taught to believe up to this point. This is exactly what Emily is going through. Once she's in Kentucky and surrounded by the men of the Reign of Terror, she learns that what she believes is the truth regarding her past is a lie and that is a devastating blow to Emily as this rocks her relationship with her mother.

4) What 2015 book (that is not your own) are you most excited to read?
Can I pick more than one? I'm very excited for Jennifer Armentrout's Every Last Breath and Huntley Fitzpatrick's The Boy Next Door.
5) What is the best piece of writing advice you've been given?

I was once told that if I don't hurt or laugh while I'm writing, then I'm not writing the right thing. This has been priceless advice for me.
6) All of my blog guests are asked this one...brownies, cupcakes or pie? Yes, it's totally cool to say all three. This is a judgment-free zone. ;)
Love all three, but I do enjoy a fantastic key lime pie!

Thanks Katie!
~ About the Book ~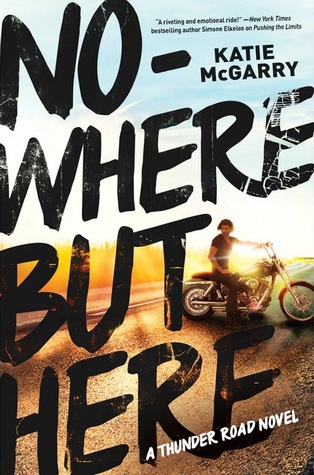 An unforgettable new series from acclaimed author Katie McGarry about taking risks, opening your heart and ending up in a place you never imagined possible.

Seventeen-year-old Emily likes her life the way it is: doting parents, good friends, good school in a safe neighborhood. Sure, she's curious about her biological father—the one who chose life in a motorcycle club, the Reign of Terror, over being a parent—but that doesn't mean she wants to be a part of his world. But when a reluctant visit turns to an extended summer vacation among relatives she never knew she had, one thing becomes clear: nothing is what it seems. Not the club, not her secret-keeping father and not Oz, a guy with suck-me-in blue eyes who can help her understand them both.

Oz wants one thing: to join the Reign of Terror. They're the good guys. They protect people. They're…family. And while Emily—the gorgeous and sheltered daughter of the club's most respected member—is in town, he's gonna prove it to her. So when her father asks him to keep her safe from a rival club with a score to settle, Oz knows it's his shot at his dream. What he doesn't count on is that Emily just might turn that dream upside down.

No one wants them to be together. But sometimes the right person is the one you least expect, and the road you fear the most is the one that leads you home.
~ About the Author~
KATIE MCGARRY was a teenager during the age of grunge and boy bands and remembers those years as the best and worst of her life. She is a lover of music, happy endings, and reality television, and is a secret University of Kentucky basketball fan.
~ Giveaway ~
One finished copy of NOWHERE BUT HERE by Katie McGarry provided by HarlequinTEEN.
~ Blog Tour ~