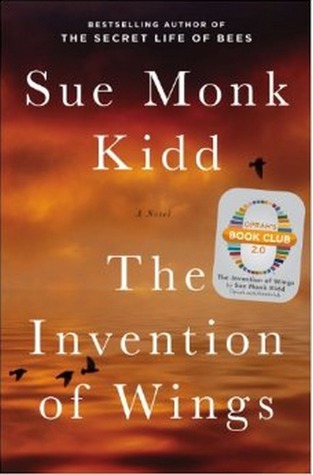 Author: Sue Monk Kidd
Publication (Paperback): May 5, 2015
By: Viking
Amazon | B&N | Goodreads
Hetty "Handful" Grimke, an urban slave in early nineteenth century Charleston, yearns for life beyond the suffocating walls that enclose her within the wealthy Grimke household. The Grimke's daughter, Sarah, has known from an early age she is meant to do something large in the world, but she is hemmed in by the limits imposed on women.

Kidd's sweeping novel is set in motion on Sarah's eleventh birthday, when she is given ownership of ten year old Handful, who is to be her handmaid.We follow their remarkable journeys over the next thirty-five years, as both strive for a life of their own, dramatically shaping each other's destinies and forming a complex relationship marked by guilt, defiance, estrangement and the uneasy ways of love.
As the stories build to a riveting climax, Handful will endure loss and sorrow, finding courage and a sense of self in the process. Sarah will experience crushed hopes, betrayal, unrequited love, and ostracism before leaving Charleston to find her place alongside her fearless younger sister, Angelina, as one of the early pioneers in the abolition and women's rights movements.

Inspired by the historical figure of Sarah Grimke, Kidd goes beyond the record to flesh out the rich interior lives of all of her characters, both real and invented, including Handful's cunning mother, Charlotte, who courts danger in her search for something better.

This exquisitely written novel is a triumph of storytelling that looks with unswerving eyes at a devastating wound in American history, through women whose struggles for liberation, empowerment, and expression will leave no reader unmoved.
~ Book Club Guides ~
~ Audiobook Clip ~


~ About the Author ~
Photo Credit: Author's website

Sue Monk Kidd was raised in the small town of Sylvester, Georgia, a place that deeply influenced the writing of her first novel The Secret Life of Bees. She graduated from Texas Christian University in 1970 and later took creative writing courses at Emory University and Anderson College, as well as studying at Sewanee, Bread Loaf, and other writers conferences.
Her book When the Heart Waits, published by Harper SanFrancisco in 1990 has become a touchstone on contemplative spirituality. In 1996, Harper published The Dance of the Dissident Daughter, describing Kidd's journey into feminist theology, a memoir that had a groundbreaking effect within religious circles.
In her forties, Kidd turned her attention to writing fiction, winning the South Carolina Fellowship in Literature and the 1996 Poets & Writers Exchange Program in Fiction. Her short stories appeared in TriQuarterly, Nimrod, and other literary journals and received a Katherine Anne Porter award and citations in Best American Short Stories' 100 Distinguished Stories.
When her first novel, The Secret Life of Bees, was published by Viking in 2002, it became a genuine literary phenomenon, spending more than 2½ years on the New York Times bestseller list. It has been translated into 36 languages and sold more than 6 million copies in the U.S. and 8 million copies worldwide. Bees was named the Book Sense Paperback Book of the Year in 2004, long-listed for the 2002 Orange Prize in England, and won numerous awards. For over a decade, the novel has been produced on stage by The American Place Theater, and in 2008 it was adapted into a movie by Fox Searchlight, which won the People's Choice award for best movie and the NAACP Image award for best picture. It is taught widely in middle school, high school, and college classrooms.
Kidd's second novel, The Mermaid Chair, has sold well over a million copies since its publication by Viking in 2005, reaching #1 on the New York Times bestseller list and remaining on the hardcover and paperback lists for nine months. Winner of the 2005 Quill Award for General Fiction, the novel was longlisted for the International IMPAC Dublin Literary Award, translated into 24 languages, and made into a television movie by Lifetime.
The spiritual essays, meditations, and inspirational stories Kidd wrote in her thirties were collected into a single volume, Firstlight: The Early Inspiration Writings and published by Guideposts Books in 2006 and Penguin in 2007.
After traveling with her daughter, Ann Kidd Taylor, to sacred sites in Greece, Turkey, and France, Kidd and Taylor co-authored a memoir, Traveling with Pomegranates: A Mother-Daughter Story. Published by Viking in 2009, it appeared on numerous bestseller lists, including the New York Times list and has been published in several languages.
The Invention of Wings, Kidd's third novel was published January 7, 2014 by Viking to wide critical acclaim. It debuted on the New York Times bestseller list at #1 and remained on the hardcover fiction list for over six months. It has been translated into 20 languages, thus far. The novel was chosen for Oprah's Book Club 2.0. Plans are underway to turn the book into a film.
Kidd serves on the Writers Council for Poets & Writers, Inc. She lives in Southwest Florida with her husband, Sandy.
~ GIVEAWAY~