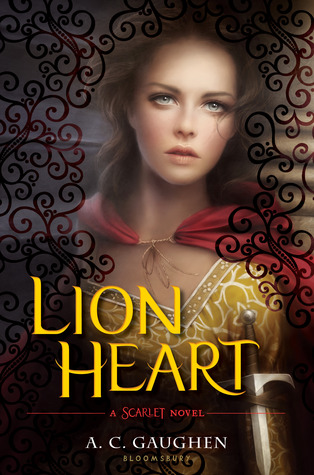 Series:
SCARLET #3
Author: A.C. Gaughen
Publication:
May 19, 2015
By:
Bloomsbury USA Childrens
Amazon | Barnes & Noble | Goodreads
LOVED IT SO HARD!
The eagerly-awaited conclusion to the Scarlet trilogy delivers another action-packed and romance-filled adventure.

Scarlet has captured the hearts of readers as well as the heart of Robin Hood, and after ceaseless obstacles and countless threats, readers will finally find out the fate of the Lady Thief.

Imprisoned by Prince John for months, Scarlet finds herself a long way from Nottinghamshire. After a daring escape from the Prince's clutches, she learns that King Richard's life is in jeopardy, and Eleanor of Aquitaine demands a service Scarlet can't refuse: spy for her and help bring Richard home safe. But fate—and her heart—won't allow her to stay away from Nottinghamshire for long, and together, Scarlet and Rob must stop Prince John from going through with his dark plans for England. They can not rest until he's stopped, but will their love be enough to save them once and for all?
* I received a copy of this from the publisher in exchange for an honest review*
Fantastic ending! Brutal, painful and beautiful all at the same time.
I had the chance to binge read all three books in this series and I'm so glad I did. Having to wait a year in between each book, ESPECIALLY with the way LADY THIEF ended would have killed me!
Probably.
What makes this series SO FREAKING AWESOME---and keep in mind, I'm not a huge fan of historicals---is that Scarlet is the MC, not Robin Hood and girlfriend is KICK ASS! Seriously, if you ever find yourself in a dark alley or you know, in a particularly shady part of Sherwood Forest, Scarlet is who you want on your side.
And talk about an epic love story...
Scarlet and Rob have to endure some pretty heart-wrenching things before books' end, things that leave them both with visible scars as well invisible ones. When one is weak, the other one is strong and they never give up on the hope of a happily-ever-after. Theirs is a great example of how love works in the real world.
I'm going to miss this world and these characters!
Favorite Quote(s):
"Nothing good in Ireland." He frowned. "Except the ale. The ale is fine."

"And in fact---I shall cut off your fingers because you annoyed me and I don't know how to talk about my feelings," he mocked."
"Sometimes it's harder to be bright when you feel the darkness inside you. Sometimes the very hardest thing is to let the pain go."
I think life becomes a fabric of choices, interwoven, all related."
"No. Stories are told to make you feel something, and they can tell ours over and over again, and every time it will be something different."