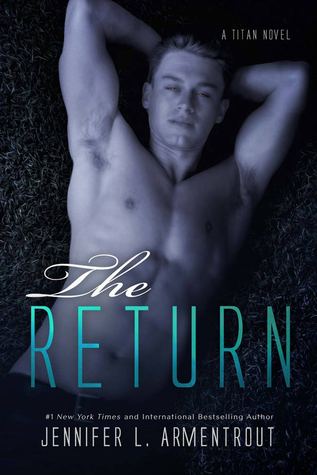 Series: Titan #1
Author: Jennifer L. Armentrout
Publication: February 17, 2015
By: Spencer Hill Press
Genre: New Adult/18+
Amazon | Barnes & Noble | Goodreads
5 Stars!
The Fates are cackling their bony asses off...
It's been a year since Seth made the deal with the gods that pledged his life to them. And so far, the jobs they've given him have been violent and bloody – which is kind of all right with him. But now Apollo has something else in mind for Seth. He's got to play protector while keeping his hands and fingers off, and for someone who really has a problem with restraint, this new assignment might be the most challenging yet.

Josie has no idea what this crazy hot guy's deal might be, but it's a good bet that his arrival means the new life she started after leaving home is about to be thrown into an Olympian-sized blender turned up to "puree". Either Josie is going insane or a nightmare straight out of an ancient myth is gunning for her.

But it might be the unlikely attraction simmering between her and the golden-eyed, secret-keeping Seth that may prove to be the most dangerous thing of all.

Book 1 in the new adult paranormal TITAN series, spin-off to the best selling COVENANT series. Seth's Story.
When it was announced that there was going to be a New Adult spin-off of the Covenant series, and it was going to center around Seth, I did this...


And then THIS because, hey, it was right next to me. Why not?
Photo credit: Hannah McBride, I think. I don't remember for sure.
But seriously, I was SO EXCITED for Seth to get his own story. Don't get me wrong, I love me some Aidan St. Delphi, but I'm a sucker for a redeemable bad boy, and I've always had a soft spot in my heart for Seth. So much so, I made him his own Cuddle Bunny cupcake.


Photo credit: Jenuine Cupcakes
As with her other books, The Return has all of the elements fans have come to expect and enjoy about an Armentrout book: Great story, engaging characters, witty banter and plenty of swoon.
Seth has been carrying around a lot of baggage and the last thing he wants or needs, is to have to babysit a human. Or at least, a girl he thinks is a human. Josie may not possess the physical strength Seth does, but she more than makes up for it in emotional toughness. She sees the best in those she cares about, including Seth, and she manages to bring it out in him even when they aren't getting along.
Which is quite often. And highly entertaining.
The relationship that builds between them
wasn't at all what I expected, it was better. Tender and sweet, it had me

laughing one minute and fanning my face in the next. I really enjoyed stepping back into the world of Greek Mythology and I'm anxious to see where Seth and Josie's journey takes them next!
I have no doubt fans of The Covenant Series will make this one a favorite too!
~ About Jennifer ~
# 1 NEW YORK TIMES and USA TODAY Bestselling author Jennifer lives in Martinsburg, West Virginia. All the rumors you've heard about her state aren't true. When she's not hard at work writing. she spends her time reading, working out, watching really bad zombie movies, pretending to write, and hanging out with her husband and her Jack Russell Loki.
Her dreams of becoming an author started in algebra class, where she spent most of her time writing short stories….which explains her dismal grades in math. Jennifer writes young adult paranormal, science fiction, fantasy, and contemporary romance.
She is published with Spencer Hill Press, Entangled Teen and Brazen, Disney/Hyperion and Harlequin Teen. Her book Obsidian has been optioned for a major motion picture and her Covenant Series has been optioned for TV. She also writes adult and New Adult romance under the name J. Lynn. She is published by Entangled Brazen and HarperCollins.