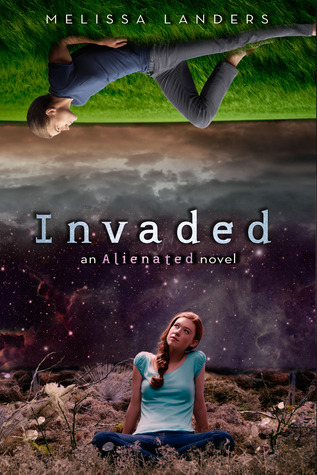 Author: Melissa Landers
Publication: February 3, 2015
By: Disney-Hyperion
Amazon | Barnes & Noble | Goodreads
4.5 Stars
The romantic sequel to Alienated takes long-distance relationships to a new level as Cara and Aelyx long for each other from opposite ends of the universe...until a threat to both their worlds reunites them.

Cara always knew life on planet L'eihr would be an adjustment. With Aelyx, her L'eihr boyfriend, back on Earth, working to mend the broken alliance between their two planets, Cara is left to fend for herself at a new school, surrounded by hostile alien clones. Even the weird dorm pet hates her.

Things look up when Cara is appointed as human representative to a panel preparing for a human colony on L'eihr. A society melding their two cultures is a place where Cara and Aelyx could one day make a life together. But with L'eihr leaders balking at granting even the most basic freedoms, Cara begins to wonder if she could ever be happy on this planet, even with Aelyx by her side.

Meanwhile, on Earth, Aelyx, finds himself thrown into a full-scale PR campaign to improve human-L'eihr relations. Humans don't know that their very survival depends on this alliance: only Aelyx's people have the technology to fix the deadly contamination in the global water supply that human governments are hiding. Yet despite their upper hand, the leaders of his world suddenly seem desperate to get humans on their side, and hardly bat an eye at extremists' multiple attempts on Aelyx's life.

The Way clearly needs humans' help . . . but with what? And what will they ask for in return?
* I received a copy of the book from the publisher in exchange for an honest review*
Other books in the series:
(click titles for buy links)
~ My Thoughts ~
What I Liked: INVADED had all of the elements I loved in ALIENATED; great writing, engaging characters, witty banter, with an out-of-this-world setting, but it didn't pack the same romantic punch I hoped it would. Long distance relationships can be hard and it was fun to see how Cara adapted to life on
L'eihr
with the help of her brother Troy, while Aelyx navigated through the public relations nightmare on Earth, but I wanted to see more of them together. On the same planet. Face to face. Kissing.
Plenty of moments made me laugh, some made me swoon, and more than one had me on the edge of my seat ready to throw the book across the room! The ending was satisfying, tying up the major loose ends, yet still leaving room for more. I don't think there is another book planned, but I would hop on board that ship if there was!
Favorite Character: Aelyx. There is a scene near the end (page 288 in my book) that was equal parts swoon worthy and heartbreaking. Swoon worthy because it wasn't an easy choice to make, but it solidified my "Aleyx is such a good guy!" feeling. And heartbreaking because it was the right choice to make.
Cryptic much? Yes. I don't want to spoil anything.
What Left Me Wanting More: I wished really, REALLY wish there was another book to look forward to, or at least a novella.
Preferably one with a "From Here To Eternity" theme. Like this...
Read the book and you'll understand what I mean. ;)
Favorite Quote: "As in I'ma disrobe you, then I'ma probe you?" ~ Cara
~

About the Author ~
Melissa Landers is a former teacher who left the classroom to pursue other worlds. A proud sci-fi geek, she isn't afraid to wear her Princess Leia costume in public—just ask her husband and three kids. She lives just outside Cincinnati and writes adult contemporary romance as Macy Beckett.