I recently binge read all three books in the White Rabbit Chronicles series, and had the opportunity to interview Author Gena Showalter.
Check out what I thought and what Gena had to say...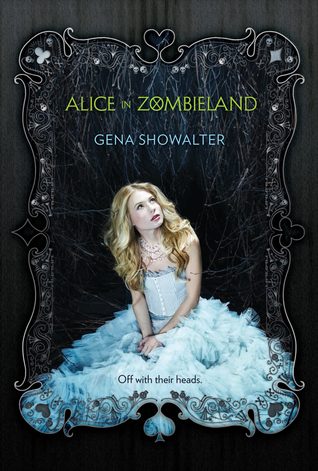 She won't rest until she's sent every walking corpse back to its grave. Forever.

Had anyone told Alice Bell that her entire life would change course between one heartbeat and the next, she would have laughed. From blissful to tragic, innocent to ruined? Please. But that's all it took. One heartbeat. A blink, a breath, a second, and everything she knew and loved was gone.

Her father was right. The monsters are real….

To avenge her family, Ali must learn to fight the undead. To survive, she must learn to trust the baddest of the bad boys, Cole Holland. But Cole has secrets of his own, and if Ali isn't careful, those secrets might just prove to be more dangerous than the zombies….

I wish I could go back and do a thousand things differently.
I'd tell my sister no.
I'd never beg my mother to talk to my dad.
I'd zip my lips and swallow those hateful words.
Or, barring all of that, I'd hug my sister, my mom and my dad one last time.
Favorite Character: Cole Holland.
Favorite Quote: "U thinking what I'm thinking? Dark alley, brass knuckles & prison rules."
What I Liked: Action. Humor. Romance and FEELS. This one has it all. I really enjoyed watching the relationships that formed and how they played out, from the family, BFFs Bromance and of course, romance. The process Ali, Cole and the other zombie slayers go through in order to fight was pretty awesome too!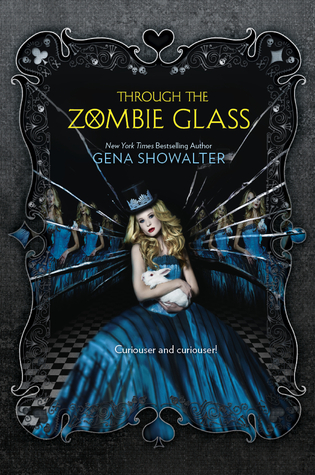 Zombies stalk the night. Forget blood and brains. These monsters hunger for human souls. Sadly, they've got mine...
Alice Bell has lost so much. Family. Friends. A home. She thought she had nothing else to give. She was wrong.
After a new zombie attack, strange things begin to happen to her. Mirrors come to life, and the whispers of the dead assault her ears. But the worst? A terrible darkness blooms inside her, urging her to do very wicked things.
She's never needed her team of zombie slayers more, but ultra bad-boy Cole Holland, the leader and her boyfriend, suddenly withdraws from her...from everyone. Now, with her best friend Kat at her side, Ali must kill the zombies, uncover Cole's secret and learn to fight the darkness.
But the clock is ticking...and if she fails at a single task, they're all doomed.
Favorite Character: NOT Cole Holland, that's for sure!
Especially since he tries to go all Ross Gellar on me.
You were just being stupid. And selfish. And stupid. Did I mention that yet?
And yeah, everyone makes mistakes, but the fact that Ali spent a good bit of the book beating herself up over your stupidity made me want to knee you in the junk.
Favorite Quote: "Ali Bell doesn't play hide-and-seek," Lucas said. "She plays hide-and-pray-I-don't-find-you."
What I Liked: Honestly, this book hurt. A LOT. I felt like a zombie reached inside, pulled my heartstrings out of my chest and chomped on them. I'm really glad I had book three lined up because I wanted to see if Cole could redeem himself.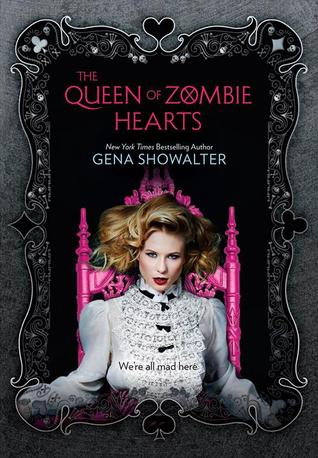 I have a plan.
We'll either destroy them for good, or they'll destroy us.
Either way, only one of us is walking away.
In the stunning conclusion to the wildly popular White Rabbit Chronicles, Alice "Ali" Bell thinks the worst is behind her. She's ready to take the next step with boyfriend Cole Holland, the leader of the zombie slayers…until Anima Industries, the agency controlling the zombies, launches a sneak attack, killing four of her friends. It's then she realizes that humans can be more dangerous than monsters…and the worst has only begun.
As the surviving slayers prepare for war, Ali discovers she, too, can control the zombies…and she isn't the girl she thought she was. She's connected to the woman responsible for killing—and turning—Cole's mother. How can their relationship endure? As secrets come to light, and more slayers are taken or killed, Ali will fight harder than ever to bring down Anima—even sacrificing her own life for those she loves.
Favorite Character: Kat
Favorite Quote: "The only way I'll ever take off my pants in your presence is to use the material to choke you to death."
What I Liked: Love, forgiveness and the ultimate sacrifce make up the final installment of this series.
Cole goes to bat for Ali and he fights hard to make up for his mistakes as well as trying to save herself. The end was bittersweet.
~ Author Interview ~
Thanks for joining me on the blog!
I recently binge read all three books in the White Rabbit Chronicles and thoroughly enjoyed Alice and Cole's adventures, even if it DID feel like a zombie chomped on heartstrings a few times. The letter to your readers in the beginning made me smile as did the play lists in the back. I'm always curious about what a book's soundtrack is. :)
I have to admit, I'm not a big fan of zombies, but I really enjoyed how you used them to explain the battle between good vs. evil in the books! Of the three White Rabbit Chronicles books, do you have a favorite and why?
I had the most fun writing The Queen of Zombie Hearts. I knew the characters and world intimately. Both were already alive to me, and vividly so. The words poured out of me. I loved watching the characters try to out-snark each other. The action swept me away, and the emotional impact as certain characters said goodbye hit me deeply. And let's not forget the scene with Ali and Cole… uh, solidifying their love, so to speak. Shivers!
Having the slayers transform (for lack of a better word) in order to fight the zombies was SO COOL! How did you come up with that?
I had to come up with a reason only slayers could see the zombies. So, they became spirit zombies. But that presented a problem. Flesh and spirit are not tangible to each other. So, I then had to come up with a way for the slayers to fight spirit to spirit, and I remembered a passage of scripture** (and I'm paraphrasing here) "Our fight is not against flesh and blood, but against the dark forces." So, knowing zombies were once human spirits infected with toxin, I knew living humans had spirits and could therefore push their spirits out of their bodies to fight.
**"For our struggle is not against flesh and blood, but against the rulers, against the authorities, against the powers of this dark world and against the spiritual forces of evil in the heavenly realms." ~ Ephesians 6:12 NIV
Which of the characters was the easiest to write? Who was the hardest?
Kat was the easiest—she's a glimpse at the amazing women in my family. Emma was the toughest—I didn't want to write her too mature for her age, but I didn't want to write her too immature, either. I had to find balance.
How do you balance writing with raising a family?
That's a good question. I hope to find the answer one day soon. :)
Actually, for me it's all about turning off the computer and walking away from the work.
What is the best piece of writing advice you've ever been given?
Do not write to fit a trend. As soon as you do, the trend is over. Do not write to please others. As soon as you do, your vision is lost. Write the story of your heart.
The last book you read and could not put down was?
I've got three books on my plate right now. They All Fall Down by Roxanne St. Claire. It's a breathtaking psychological teen thriller, unlike anything else I've read. I love that the heroine is a Latin nerd who isn't blown away by being named one of the hottest girls in her school...even though it changes her social status. She carries guilt for her role in her brother's death and getting over the past is such a great part of her journey. Plus, my fave, cute bad boy hero.
There's also Dead of Winter by Kresley Cole. Two powerful men each use individual strengths and talents to compete for the girl, risking everything to save her. Evie makes the ultimate decision in this book, and it will leave you gasping.
Finally, A Court of Thorn and Roses by Sarah Maas. It's the start of a brand new series, and the action will thrill you, the imagery will seduce you, and the romance will captivate you!
I ask all of my blog visitors this question: Brownies, cupcake or pie? (no pressure or anything)
What about a brownie flavored cupcake sprinkled with bits of pie?
<-- I'll get on that ASAP!
~ Author The Author
Gena Showalter is the New York Times and USA Today best-selling author of the wildly popular White Rabbit Chronicles, the Angels of the Dark, the Lords of the Underworld, and the Otherworld Assassins series.
In addition to being a National Reader's Choice and RITA nominee, her romance novels have appeared in Cosmopolitan and Seventeen magazine, and have been translated in multiple languages. She lives in Oklahoma with her family and menagerie of dogs, and truly believes love conquers all.