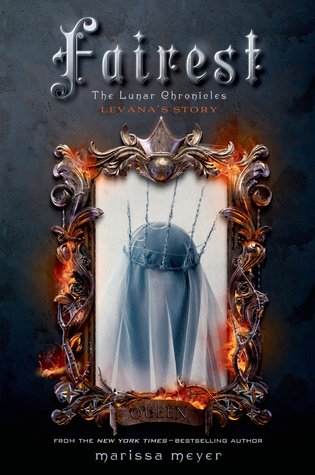 Series:
The Lunar Chronicles (#0.1)
Author:
Marissa Meyer
Narrator:
Rebecca Sole
Publication: January 27, 2015
By: Feiwel & Friends
Amazon | Goodreads
Mirror, mirror on the wall,
Who is the fairest of them all?

Fans of the Lunar Chronicles know Queen Levana as a ruler who uses her "glamour" to gain power. But long before she crossed paths with Cinder, Scarlet, and Cress, Levana lived a very different story – a story that has never been told . . . until now.

Marissa Meyer spins yet another unforgettable tale about love and war, deceit and death. This extraordinary book includes full-color art and an excerpt from Winter, the next book in the Lunar Chronicles series.
* I received a copy of this audiobook from the publisher in exchange for an honest review*
Audio:

4 Stars
Another excellent audio performance by Rebecca Soler! As with the other books in this series, she does a fanfreakingtastic job of bringing each of the characters to life.

Story: 3.5 Stars
Levana definitely takes, "I have issues" to a whole different level. Like, hide your rabbits, hide your pots, and make sure the water doesn't reach boiling point, brand of issues. There were times I was sad for her, but mostly, I wanted to hide from her. Glamour myself as a tree or something.
Fairest is darker than the previous books and does a great job of setting the stage for Winter, but I missed the humor and romance the rest of the series has. However, in creating a villain worthy both of my respect and fear, Marissa Meyer has also solidified my role as a "Lunartic" and I CAN.NOT.WAIT for WINTER!