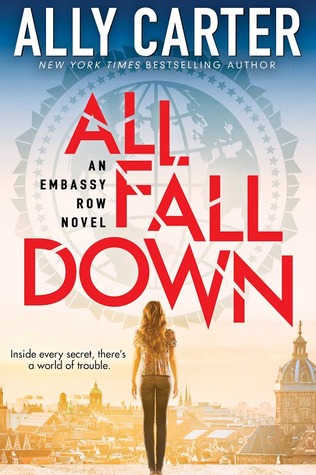 Series: Embassy Row #1
Publication: January 20, 2015
By: Scholastic
Amazon | B&N | Goodreads
Grace Blakely is absolutely certain of three things:

1. She is not crazy.
2. Her mother was murdered.
3. Someday she is going to find the killer and make him pay.

As certain as Grace is about these facts, nobody else believes her–so there's no one she can completely trust. Not her grandfather, a powerful ambassador. Not her new friends, who all live on Embassy Row. Not Alexei, the Russian boy next door who is keeping an eye on Grace for reasons she neither likes nor understands.

Everybody wants Grace to put on a pretty dress and a pretty smile, blocking out all her unpretty thoughts. But they can't control Grace–no more than Grace can control what she knows or what she needs to do.

Her past has come back to hunt her . . . and if she doesn't stop it, Grace isn't the only one who will get hurt. Because on Embassy Row, the countries of the world all stand like dominoes, and one wrong move can make them all fall down.
*I received this ARC from the publisher as part of the #AllyAmbassador Campaign in exchange for an honest review*
Jen is absolutely certain of three things:
1. This book is freaking AWESOME! The action, suspense, thrills and characters. ALL OF IT!
2. You should read it. If not, I may have to have you "relocated". I'm kidding.

Maybe.
3. I need Book 2 RIGHT NOW!
Favorite Character: This is a tie between Grace and Noah. Grace has the confidence I wish I had back in High School, and Noah is the kind of BFF every girl should have.
Favorite Quote: "I don't know," Noah whispers. "What do people usually do in these situations? I mean...we could make out?" Even in the dark, he reads the look I give him. "Or not. Yeah. I was thinking not."
All Fall Down is an action packed thrill ride that is sure to leave readers anxious for more!