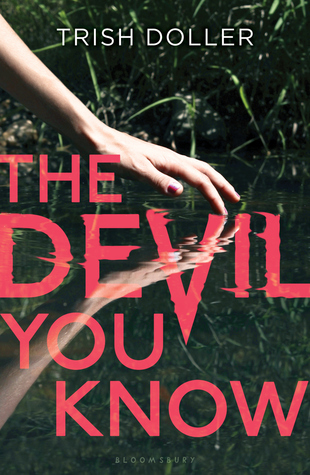 Author:
Trish Doller
Publication: June 2, 2015
By: Bloomsbury Children's USA
Amazon | B&N | Goodreads
4 STARS!
Eighteen-year-old Arcadia wants adventure. Living in a tiny Florida town with her dad and four-year-old brother, Cadie spends most of her time working, going to school, and taking care of her family. So when she meets two handsome cousins at a campfire party, she finally has a chance for fun. They invite her and friend to join them on a road trip, and it's just the risk she's been craving-the opportunity to escape. But what starts out as a fun, sexy journey quickly becomes dangerous when she discovers that one of them is not at all who he claims to be. One of them has deadly intentions.

A road trip fling turns terrifying in this contemporary story that will keep readers on the edge of their seats.
* I received an ARC from the publisher in exchange for an honest review*
I will read anything Trish Doller writes, and yes, I read this one in a day. It's hard NOT to.

This is was so well done as far as thrillers go AND it would make a great movie.

Did I have a hunch who the villain was, yes, but Trish Doller did a fantastic job of keeping me on my toes and second guessing myself so it didn't bother me. If anything, it made it impossible for me to stop reading until I was 100% sure my prediction was correct. This also meant I didn't get to bed until well after midnight. Thanks for that, Trish! ;)

One of the things that Trish Doller gets right in every single book (at least, in my opinion) is the father-daughter relationship. Not only are her dads present, they're involved in their daughter's lives. They CARE about what's happening, who they're friends with and who they date.

Cadie, like all the rest of Trish Doller's female MCs, has a good head on her shoulders. She's intelligent and strong, loves her family and cares about the people around her. Life has caused her to make a few detours off the "normal" teenage path, so I was not at all surprised to see her jump at the chance for a little rebellion and an adventure. I did arch a brow over one choice in particular, but I don't want to spoil anything.

The end was really gratifying and I can't wait to see what Trish comes up with next!
Favorite Quote(s):
"He doesn't smell like citrus or a pine forest or any of those things boys smell like in books."
"And you haven't really lived until you've experienced the Ring of Fire." "On the other hand, I haven't really died, either."