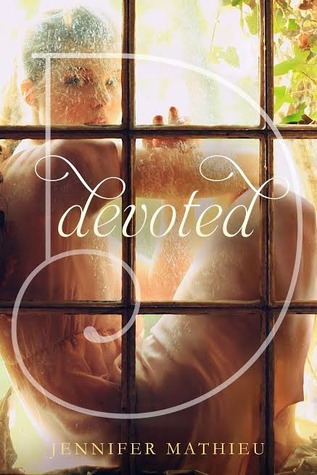 Author: Jennifer Mathieu
Publication: June 2, 2105
By: Roaring Brook Press
Amazon | B&N | Goodreads
5 Stars!
Rachel Walker is devoted to God. She prays every day, attends Calvary Christian Church with her family, helps care for her five younger siblings, dresses modestly, and prepares herself to be a wife and mother who serves the Lord with joy. But Rachel is curious about the world her family has turned away from, and increasingly finds that neither the church nor her homeschool education has the answers she craves. Rachel has always found solace in her beliefs, but now she can't shake the feeling that her devotion might destroy her soul.
* I received this ARC from the publisher in exchange for an honest review*
There were several reasons why I wanted to read this book: the gorgeous cover, the subject matter, and because I have a friend whose name is Rachel Walker. She's married to a Pastor. So there is your random book fact for the day.
As a both a Christian and a homeschool mom, I went into this book hesitantly. I wasn't sure if I would find a story I could relate to or one that would make me ragey. Like this...
The Quiverfull lifestyle is equal parts fascinating and frustrating (for me) because while their intentions are good, they often err on the side of legalism. (
A strict set of rules with harsh consequences and no grace whatsoever.) That is NOT what Christianity is supposed to be about and certainly not how I aim to live my life as a Jesus follower.
I appreciated the way Jennifer Mathieu presented the varying views
without criticising or condemning. I also found the different reactions to similar upbringings interesting as well. If that sounds vague, it's meant to. I'm trying not to spoil anything. While one character chooses to turn [their] back completely on faith or religion of any kind, another decides to delve deeper in search of truth and understanding.
DEVOTED is really well written and shows real growth with the MC. The secondary characters were a lot of fun too, especially Mark. He was adorable in that typical/somewhat clueless way teenage boys are, and his interactions with Rachel always put a smile on my face! Like this...
Read it.
Favorite Quote(s):

"This thing," Mark says with a dramatic sigh. "This thing that claws open your chest and takes your will to live and just crushes it with one intense death grip." He clenches his fist for added emphasis.

<---

What makes this so funny (to me) is that he's referring to an SAT Prep class.
~ Author Q+A ~
Why did you decide to write a story focusing on a girl from a Quiverfull family? (Btw, I thought you handled the balance of perception and reality with regards to faith extremely well. Often times, I feel faith-based characters are portrayed in the extreme and not the balance which has been my real life experience. For that, I thank you!)
Thank you so much for your kind words! Well, I decided to write a story focusing on a Quiverfull family because I became so obsessed with the movement. This was even before I wrote my first novel, The Truth About Alice. I'm one of those people who can spend hours on Wikipedia, reading about things that interest me. I had become curious about this movement after watching the reality show featuring the Duggar family, and then I read a nonfiction book by a writer named Kathryn Joyce called Quiverfull: Inside the Christian Patriarchy. One part of the Quiverfull world that I find really interesting and also troubling is the fact that a lot of the older teen girls have to take on so much of the childcare and housekeeping because the families are so big. Because I write for and about teenagers, I started wondering about their stories, and I started wondering what it would be like to be a teenage girl in a Quiverfull family who felt like she didn't fit in. I wanted to be nuanced in my approach – to allow my main character Rachel to have a hunger for God but still feel frustrated by the belief system of her family. It was a fascinating tension to explore.
Who was the easiest character to write? The toughest? (Mark was my favorite!)
Mark was my favorite, too! And to be honest, he was the easiest to write. He was so sweet, funny, and authentic. A nice guy. I started thinking about who would be the best guy for Rachel to meet on the outside, away from her community. I wanted him to be just right – not a perfect person, but the perfect person for her. He is welcoming but not threatening in any way. He's very secure in who he is, and he's funny. Plus, he's a reader, just like Rachel! I loved writing him.

To be honest, Rachel was the hardest character. In early drafts she wasn't fully formed. I realized I was using her as a stand in to dump all my information about the Quiverfull world. My editor helped me realize that, and I did all these voice and character exercises to realize who she really is as a person. Once I did that and had a better understand of who she was, I was off and running!
What, if any, message do you hope readers will take away from DEVOTED?
First, I hope reading Devoted will help readers develop compassion and empathy. It's very easy to make fun of others and mock religion or mock people whose beliefs seem strange or wrong to you. I firmly believe we can disagree sharply about how people live their lives while still trying to have compassion for them and treating them with kindness. And I also hope readers, especially teen readers, will find Rachel's story to be inspiring. I think it's natural and normal and actually a good thing as a teenager to start developing your own beliefs and values. You have to decide what matters to you, what beliefs you have, and sometimes it can be tricky if they don't align with those of your parents or community. But I think living a life that's true to you is very important. So I hope Rachel's story provides people with the courage to ask the big questions.
What is the best piece of writing advice you've been given?
Great question! It's difficult to pick one piece of advice. But I love the quote from S.E. Hinton where she said she wrote The Outsiders because she wanted to read it. I firmly believe you have to write for yourself, first. It's tricky, especially after you are a published author, to avoid thinking about how everyone else will respond to your work. But ultimately, I think you have to be in love with your character and in love with the story you are trying to tell. Otherwise, it just won't work.
I ask all of my blog guests this one: brownies, cupcakes or pie?
Oh, dang! That is tough. But I have to say brownies. With pie there are too many I don't like, and with cupcakes, it's really only the icing that I love. Brownies are good all the time, especially if they're just slightly undercooked and super fudgy. 


Thanks!
~ About the Author ~
a Rafflecopter giveaway