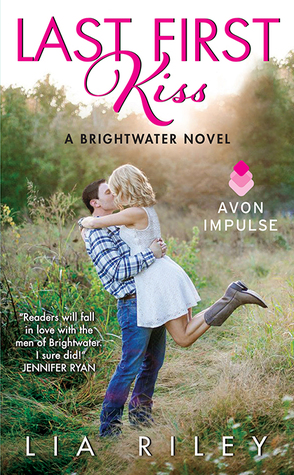 Series:
Brightwater #1
Author:
Lia Riley
Publication: June 23, 2015
By: Avon Impulse
Amazon | B&N | Goodreads
4 Stars
A kiss is only the beginning...

Pinterest Perfect. Or so Annie Carson's life appears on her popular blog. Reality is... messier. Especially when it lands her back in one-cow town, Brightwater, California, and back in the path of the gorgeous six-foot-four reason she left. Sawyer Kane may fill out those wranglers, but she won't be distracted from her task. Annie just needs the summer to spruce up and sell her family's farm so she and her young son can start a new life in the big city. Simple, easy, perfect.

Sawyer has always regretted letting the first girl he loved slip away. He won't make the same mistake twice, but can he convince beautiful, wary Annie to trust her heart again when she's been given every reason not to? And as a single kiss turns to so much more, can Annie give up her idea of perfect for a forever that's blissfully real.
*I received an eARC of this book from the publisher in exchange for an honest review*
~ My Thoughts ~
Annie and Sawyer are adorable with a side of sexy and a heaping dose of swoon. Second-chance-at-love stories are my favorites and LAST FIRST KISS did not disappoint. Not that I expected it to--Lia Riley wrote it and just like her NA series, UPSIDE DOWN, I thoroughly enjoyed the writing, the setting and the characters.

Annie is quirky and guarded, something I can definitely relate to and Sawyer is the kind of hero I love. I liked the secondary characters too, even if Sawyer's grandmother both entertained and scared me a little bit. I'm looking forward to reading Archer's story next!

LAST FIRST KISS is a fast, fun and refreshing start to a new series.
~ About the Author~
After studying at the University of Montana-Missoula, Lia Riley scoured the world armed only with a backpack, overconfidence and a terrible sense of direction. She counts shooting vodka with a Ukrainian mechanic in Antarctica, sipping yerba mate with gauchos in Chile and swilling forex with station hands in Outback Australia among her accomplishments.