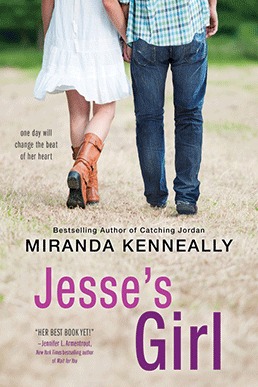 Series: Hundred Oaks #6
Author: Miranda Kenneally
Publication: July 1, 2015
By: Sourcebooks Fire
Amazon | B&N | Goodreads
4.5 Stars!
Practice Makes Perfect.

Everyone at Hundred Oaks High knows that career mentoring day is a joke. So when Maya Henry said she wanted to be a rock star, she never imagined she'd get to shadow *the* Jesse Scott, Nashville's teen idol.

But spending the day with Jesse is far from a dream come true. He's as gorgeous as his music, but seeing all that he's accomplished is just a reminder of everything Maya's lost: her trust, her boyfriend, their band, and any chance to play the music she craves. Not to mention that Jesse's pushy and opinionated. He made it on his own, and he thinks Maya's playing back up to other people's dreams. Does she have what it takes to follow her heart—and go solo?
*I received this eARC from the author in exchange for an honest review*

Miranda Kenneally is a master at writing Book Boys and I love every single one of hers!

If Ferris Bueller's Day Off and American Idol got married and had a baby, Jesse's Girl would be it. (And it would be love at first sight for me.)

This story has all of the elements I've come to love in a Miranda Kenneally book: Smart, feisty female MC, relateable family dynamics, a cute boy and a swoon-worthy romance.

Maya has big dreams, ones she's determined to achieve no matter what while Jesse struggles to enjoy the life he's created. I enjoyed watching the two of them navigate their day together, learning about each other and even discovering new things about themselves. They bring out the best in one another which was refreshing. And of course I LOVED, LOVED, LOVED seeing a certain older brother and his girlfriend again too!

Fans of the Hundred Oaks series will not be disappointed!
~ About the Author ~
Photo Credit: Author's Website
Growing up in Tennessee, Miranda Kenneally dreamed of becoming an Atlanta Brave, a country singer (cliché!), or a UN interpreter. Instead she writes, and works for the State Department in Washington, D.C., where George W. Bush once used her shoulder as an armrest. Miranda loves Twitter, Star Trek and her husband.