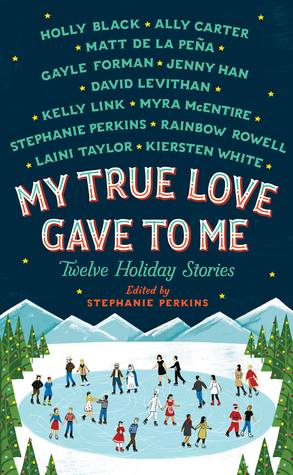 Author(s): Stephanie Perkins, Rainbow Rowell, David Levithan, Holly Black , Kelly Link, Gayle Forman, Myra McEntire, Kiersten White, Mathew de la Pena, Jenny Han, Ally Carter , Laini Taylor
Published: October 14, 2014
By: St. Martin's Press
Amazon | Goodreads
If you love holiday stories, holiday movies, made-for-TV-holiday specials, holiday episodes of your favorite sitcoms and, especially, if you love holiday anthologies, you're going to fall in love with MY TRUE LOVE GAVE TO ME: TWELVE HOLIDAY STORIES by twelve bestselling young adult writers, edited by international bestselling author Stephanie Perkins.
*I received this eARC from the publisher in exchange for an honest review*

This was a really cute read that offered a good selection of diversity both in authors and short stories. It's a great palate cleanser, especially if you're in between books and puts you in the holiday spirit too!

I enjoyed quite a few of these stories; Rainbow Rowell's, Kiersten White's, Myra McEntire, and Stephanie Perkins'. But my favorite by far was, "Star of Bethlehem" by Ally Carter. I laughed out loud, got a little misty-eyed, and swooned, but I was wearing a big stupid grin on my face when it was over which is all that matters.
Favorite Quote(s): "Right!" I agreed. "Some places there are twelve, but where I live there are nine because...the other three died because they forgot their shoes."