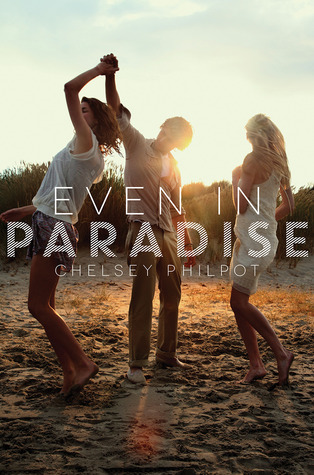 Author: Chelsey Philpot
Publication: October 14, 2014
By: Harper Collins
Amazon | Book Depository | Goodreads
3.75 Stars
When Julia Buchanan enrolls at St. Anne's at the beginning of junior year, Charlotte Ryder already knows all about the former senator's daughter. Most people do... or think they do.

Charlotte certainly never expects she'll be Julia's friend. But almost immediately, she is drawn into the larger than-life-new girl's world—a world of midnight rendezvous, dazzling parties, palatial vacation homes, and fizzy champagne cocktails. And then Charlotte meets, and begins falling for, Julia's handsome older brother, Sebastian.

But behind her self-assured smiles and toasts to the future, Charlotte soon realizes that Julia is still suffering from a tragedy. A tragedy that the Buchanan family has kept hidden … until now.
*I received this from the publisher in exchange for an honest review*
The pretty cover is what initially drew me to this book, but it was the poetic writing and flawed characters that kept me reading. The Buchanans reminded me a lot of the Kennedys, and it was easy to see how quickly Charlotte could become so enamoured with them, but it's never a good sign, in any relationship, when you allow yourself to become so consumed by another person that you lose a sense of who you are as an individual.
Charlotte takes on the role of emotional caretaker, which is just an expensive way of saying, "Babysitter" for not just Julia, but the entire Buchanan clan. When they needed to make sure Julia behaved, they expected Charlotte to handle it. When problems arose, it was up to Charlotte to take care of it. When things went horribly wrong, they wanted to blame Charlotte.
The Buchanans needed to grow up, the whole lot of them. And then there was Sebastian. I liked him the most because he wasn't the stereotypical good-looking rich boy. He was quirky, cute and seemed legitimately taken with Charlotte, but even he needed to man up.
I usually don't enjoy books that are left open-ended, but this one leaves the reader with a sense of hope for fresh starts and new beginnings.
Fans of Gatsby and We Were Liars will enjoy this book.
"Even knowing, as I do now, that grace, power, and, yes, love can hide the darkest elements of the human heart, I would do it all again."