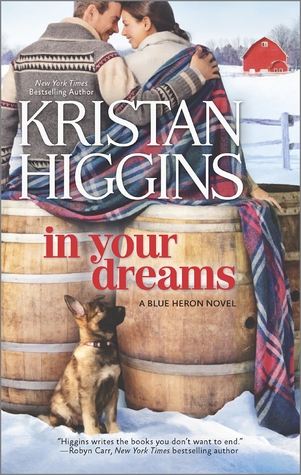 Series: Blue Heron #4
Author: Kristan Higgins
Publication: September 30, 2014
By: Harlequin HQN
Amazon | B&N | Book Depository | Goodreads
5 STARS!
Emmaline Neal needs a date. Just a date—someone to help her get through her ex-fiancé's wedding without losing her mind. But pickings are slim in Manningsport, New York, population 715. In fact, there's really only one option: local heartthrob Jack Holland. Everyone loves Jack, and he won't get the wrong idea…. After all, Jack Holland would never actually be interested in a woman like Em. Especially not with his beautiful ex-wife creeping around, angling to reunite ever since he rescued a group of teens and became a local hero.

But when the wedding festivities take an unexpectedly passionate turn, Em figures it was just one crazy night. Jack is too gorgeous, too popular, to ever end up with her. So why is she the one he can talk to about his deep, dark feelings? If Em is going to get her dream man, she'll have to start by believing in him…
*I received this from the publisher in exchange for an honest review*
Thank you Little Bird Publicity and Harlequin for this ARC! Kristan Higgins is on my short list of "AutoRead" authors and her Blue Heron Series is one of my favorites!
There are really only two things you need to know about this book:
Who I imagine looks a little like this with his blue blue eyes.
Photo: Pinterest
Okay, so maybe there are a few other things you should know...like how Kristan Higgins continues to give readers a relateable female MC and a compelling story about family, friendship and fresh starts, all while sprinkling in copious amounts of humor, face-fanning romance and tons of swoon.


In Your Dreams is witty, romantic and so much fun!
Read it.
I'm so glad you could join me today, Kristan!
I'm a big fan of your books, especially your Blue Heron series, and IN YOUR DREAMS was fantastic! I may have baked and eaten some chocolate cupcakes after I finished reading it. :)


Thank you, Jen! I hear you, girlfriend. I ate more than my fair share of chocolate cake during this book myself.

How many books do you have planned in total for the series? 

I think I'm going to end it with five. 


How do you decide which character's story to tell and when?

Ever since Colleen O'Rourke walked into the kitchen of her bar to annoy her twin brother, I've been wanting to write Connor's book.
<-- I would LOVE to read Connor's book!

What is your research process like, do you do a lot of it online or do you prefer to experience it first hand? For example, did you go to one of those health retreat places and subject yourself to no caffeine, sugar or chocolate?
Actually, I go to the retreat houses that have buffets of sugar, caffeine and chocolate. Those other places sound like prison, if you ask me.

I love to experience things firsthand and talk to people who have the same jobs as my characters. I visit every location I write about so I can pick up the local flavor, and I try to learn as much as I can about the different issues and subjects in my books. I'd never just slap out a doctor, for example, without really researching what that type of doctor does (Grey's Anatomy, I'm looking at you. Since when does a plastic surgeon get to perform brain surgery?).

Of all of your Blue Heron characters, who has been your favorite to write and why? (My favorite is still Levi.)
Aw, thanks! Levi…yeah. He's pretty great. It was fun to write a guy who was both wonderful and a pain the butt, too. I loved the bromance part of that book. But as I'm typing this, I really want to say Emmaline, the heroine of IN YOUR DREAMS. She's had a lot of strikes against her—her stutter, her weird, hovering parents, being dumped by her fiancé—but she's made a great life for herself, and I admire her so much. She's someone I'd want to hang out with, you know? And that scene at the pool during the wedding of the damned…I just loved her so much there!


What is the last book you read and could not put down?

Sherry Thomas's My Beautiful Enemy. I read it on a plane and practically ordered the pilot to circle my airport till I was finished.

I ask all of my blog guests this one...brownies, cupcakes or pie? 

Yes, please! (It's cupcakes! Of course it's cupcakes!)

Thank you so much Kristan!
A pleasure! Thanks for having me!