Welcome to Jenuine Cupcakes, this is my stop on the Starry Night Blog Tour!
There is a lot of great information in this post for you about the book, where you can see Isabel Gillies as well as a giveaway. Be sure to check it all out!
Publication:

September 2, 2014
By:

Farrar, Straus and Giroux (BYR)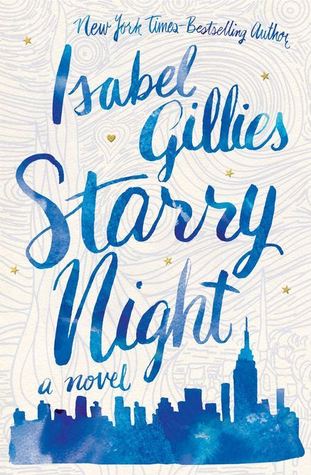 Sometimes one night can change everything. On this particular night, Wren and her three best friends are attending a black-tie party at the Metropolitan Museum of Art to celebrate the opening of a major exhibit curated by her father. An enormous wind blasts through the city, making everyone feel that something unexpected and perhaps wonderful will happen. And for Wren, that something wonderful is Nolan. With his root-beer-brown Michelangelo eyes, Nolan changes the way Wren's heart beats. In Isabel Gillies's Starry Night, suddenly everything is different. Nothing makes sense except for this boy. What happens to your life when everything changes, even your heart? How much do you give up? How much do you keep?
About the Author
Isabel Gillies, a lifelong New Yorker and actress for many years, is the New York Times best selling author of Happens Every Day, A Year and Six Seconds and the upcoming Starry Night (FSG), a young adult novel about first love. Her work has been published in Vogue, The New York Times, Real Simple, Cosmopolitan and Saveur. She lives in Manhattan with her husband, kids and Maude the dog.
AUTHOR Q&A
I'm sure you get asked this question a lot, but, what inspired you to write STARRY NIGHT?
I think love inspired me! And teenagers! I adore teenagers and am about to have three on my hands. I was enchanted and obsessed with John Hughes and Judy Bloom when I was that age and, as a writer, I wanted to jump in and start thinking about that time of life too. To be there is almost nothing better to think about than love and a teenager. I want to do it a lot more.
If you had to choose a song that best describes Wren and Nolan's relationship, what song would you pick and why?
How about RED by Taylor Swift? First of all, Taylor Swift is genius because she makes everyone feel okay about being a 16-year-old girl. Girls, boys, 80-year-olds -- everyone. Let's face it we all have a 16-year-old-girl inside us. "Loving you is red." Do you get what that means on very basic level? I do, and I think for Wren, loving Nolan is red.

Do you have a favorite Artist?
I have MANY!! Van Gogh, John Singer Sargent, John Hughes, Tom Petty, Natalie Merchant, Whoever created Bobs Burgers, Yo Yo Ma, George Balanchine, so many actors hard to list, James Taylor, Winslow Homer, my kids -- there are millions.
What was the last book you read and loved?
The Goldfinch. That was a good ride. Donna Tart is so detailed and she is so spot on it makes you want to weep. Something is awesome about reading a 900 page book too. Fun.

What is the best piece of writing advice you've ever been given?
Write every day. (Stephen King said that in his memoir On Writing.)

I ask all my visitors to the blog a dessert related question... Brownies, cupcakes or ice cream?
Oh brownies, fo' shizz! BROWNIES!!!! I want one.
<-- This might be my favorite answer EVER. :)
Starry Night Blog Tour Schedule
Wednesday, August 27
The Compulsive Reader
Thursday, August 28
Green Bean Teen Queen
Friday, August 29
Paper Cuts
Sunday, August 31
Gone With the Words
Monday, September 1
Mac Teen Books
Tuesday, September 2
Jenuine Cupcakes
Isabel's Upcoming Public Events
Saturday, August 30

Decatur Book Festival- Map of My Heart Panel (Decatur, GA)
Tuesday September 2

Barnes & Noble Upper West Side- Launch Event with John Searles (New York, NY)
Sunday, September 14

Books of Wonder- Debut Author Panel (New York, NY)
Saturday, September 27

The Voracious Reader- Reading/Signing (Larchmont, NY)
One copy of STARRY NIGHT by Isabel Gillies
Must be 13 years old to enter.
a Rafflecopter giveaway