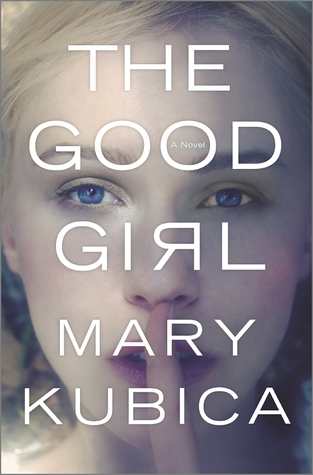 Author: Mary Kubica
Publication: July 29, 2014
By: Harlequin MIRA
Amazon | Goodreads
4.5 Stars!
"I've been following her for the past few days. I know where she buys her groceries, where she has her dry cleaning done, where she works. I don't know the color of her eyes or what they look like when she's scared. But I will."

Born to a prominent Chicago judge and his stifled socialite wife, Mia Dennett moves against the grain as a young inner-city art teacher. One night, Mia enters a bar to meet her on-again, off-again boyfriend. But when he doesn't show, she unwisely leaves with an enigmatic stranger. With his smooth moves and modest wit, at first Colin Thatcher seems like a safe one-night stand. But following Colin home will turn out to be the worst mistake of Mia's life.

Colin's job was to abduct Mia as part of a wild extortion plot and deliver her to his employers. But the plan takes an unexpected turn when Colin suddenly decides to hide Mia in a secluded cabin in rural Minnesota, evading the police and his deadly superiors. Mia's mother, Eve, and detective Gabe Hoffman will stop at nothing to find them, but no one could have predicted the emotional entanglements that eventually cause this family's world to shatter.

An addictively suspenseful and tautly written thriller, The Good Girl is a compulsive debut that reveals how even in the perfect family, nothing is as it seems….
I snagged a copy of this at ALAMW back in January. Hannah (The Irish Banana) and I were hanging out in the Harlequin booth talking to the publicists about books and cupcakes when one of us (I can't remember now who) noticed the sweater I was wearing matched the colors in THE GOOD GIRL. Being the dork that I am, I picked it up and posed with it Vanna White style.
ALAMW'14 Photo credit: Hannah
Then I flipped the book over, read the summary, thought it sounded really interesting and asked the publicist if I could keep it. She said yes. At some point I tweeted the picture, Mary Kubica saw it and we started chatting on Twitter.
Fast forward to BEA and...
pay attention, authors...
I had the pleasure of meeting Mary Kubica when she stopped to introduce herself. (I'm guessing she recognized me from Twitter) but here's WHY that was not only cool but super important...
I don't usually read adult crime/suspense/thrillers but because Mary took those few seconds to make a personal connection, IT MADE ME WANT TO READ IT EVEN MORE. It also sparked interest in the people I was waiting in line with, most of whom were strangers. They asked who she was and what book she had coming out. Then they whipped out their phones and either made a note to check THE GOOD GIRL out or added it to their Goodreads list.
My Thoughts:
Wow! was my intial reaction when I finished reading THE GOOD GIRL, partly because it reads like a seasoned novel, not a debut, and partly because I didn't expect to enjoy it as much as I did.
The alternating POVs combined with the before/after split do a fantastic job of pulling the reader in and not letting go until the stunning conclusion.
If you enjoy this genre, read it.
Even if you usually don't, you should still read it. :D