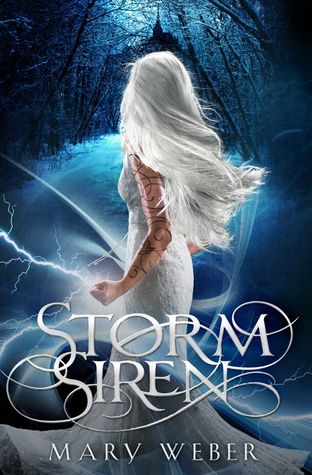 Series: Storm Siren #1
Author: Mary Weber
Publication: August 19, 2014
By: Thomas Nelson/Harper Collins
Amazon | Goodreads | The Book Depository
4.5 Stars!
"I raise my chin as the buyers stare. Yes. Look. You don't want me. Because, eventually, accidentally, I will destroy you."

In a world at war, a slave girl's lethal curse could become one kingdom's weapon of salvation. If the curse—and the girl—can be controlled.

As a slave in the war-weary kingdom of Faelen, seventeen-year-old Nym isn't merely devoid of rights, her Elemental kind are only born male and always killed at birth — meaning, she shouldn't even exist.

Standing on the auction block beneath smoke-drenched mountains, Nym faces her fifteenth sell. But when her hood is removed and her storm-summoning killing curse revealed, Nym is snatched up by a court advisor and given a choice: be trained as the weapon Faelen needs to win the war, or be killed.

Choosing the former, Nym is unleashed into a world of politics, bizarre parties, and rumors of an evil more sinister than she's being prepared to fight . . . not to mention the handsome trainer whose dark secrets lie behind a mysterious ability to calm every lightning strike she summons.

But what if she doesn't want to be the weapon they've all been waiting for?

Set in a beautifully eclectic world of suspicion, super abilities, and monsters, Storm Siren is a story of power. And whoever controls that power will win.
*I received this from the publisher in exchange for an honest review*
This cover is GORGEOUS and I spent a ridiculous amount of time staring at it after it showed up at my front door!
If you follow this blog, my reviews or hang out with me on social media, then you know my oldest son, aka, "The Teenager" loves to read almost as much as I do.

Almost.

He's even done a few guest post/reviews here on the blog

under threat of no ARCS ever again

when I've asked nicely.
The Teenager and me.
Object in photo

the one with the glasses

may appear taller in real life.
STORM SIREN review with Price - The Teenager.
Describe STORM SIREN in five words
P: Well-written, fast-paced, witty.
J: I see what you did there. Okay, my five words are: You. Want. To. Read. This!
Favorite character and why:
P: Colin. I liked his humor.
J: I would have totally been BFFs with Colin! But I'm going to go with Nym. She's a tough cookie with a good heart and the best of intentions.
Least favorite character and why:
P: Adora. She was a jerk the entire book.
J: Adora. She creeped me out.
One word that describes your feels about the ending:
P: Shock.
J: This --->
If you could possess any one of the elements, which one would you choose?
P: Definitely the ability to control the weather like Nym.
J: I would like to be able to block the elements. Snow storm? No thank you. BLOCKED.
What other books does STORM SIREN remind you of?
P: I can't think of any off the top of my head. A sign that it was original perhaps?
J: Leigh Bardugo's, GRISHA TRILOGY which happens to be my favorite fantasy series.
Why should people read STORM SIREN?
P: Because it's a gripping story with a few crazy plot twists and a heck of a cliffhanger at the end.
J: Because I said so! Oh wait. That only works on you, P. But seriously, people should read this book. It's beautifully written, masterfully crafted with a heart-wrenching romance and plot twists that keep you on your toes until the last page!
Brownies, cupcakes or pie?
P: Since Cremè Brûlée isn't an option, I'll take a Nutella S'more cupcake.
J: You had one job, Price. ;)