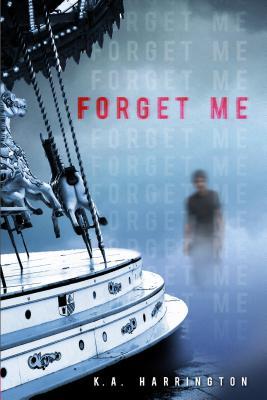 Author: K.A. Harrington
Publication: August 7, 2014
By: Putnam Juvenile
Amazon | Goodreads
4 Stars
An edge-of-your seat psychological thriller with a romantic twist

On the three-month anniversary of her boyfriend Flynn's death, Morgan uploads her only photo of him to FriendShare to get some closure—but she's shocked when the facial recognition software suggests she tag him as "Evan Murphy." She's never heard of Evan, but a quick search tells her that he lives in a nearby town and looks exactly like Flynn. Only this boy is very much alive.

Digging through layers of secrets and lies, Morgan is left questioning everything she thought she knew about her boyfriend, her town, and even her parents' involvement in this massive web of lies.
The tagline

An edge-of-your seat psychological thriller with a romantic twist,

is no joke!
This was my first K.A. Harrington book and I only intended to peek at it, but once I started reading I couldn't put it down. The writing is clean, the mystery intriguing and the suspense kept me turning the page until I reached the end. Each time I thought I knew what was going on, another twist would pop up and leave me guessing again.
The romance, while not the main focus, developed in a way that was smart and relateable. And the doppelganger aspect was more than a little creepy but in the best way possible.
FORGET ME is addictive, thrilling, romantic, and the BFFs made me smile!
About K.A. Harrington
Kim Harrington is the author of Clarity, Perception, The Dead and Buried, and Forget Me for teens and the Sleuth or Dare series for kids. She lives in Massachusetts with her husband and son.

When not writing, she's most likely reading, watching one of her favorite TV shows, or fantasizing about her next vacation.

Her first book, Clarity, received a starred review from Publisher's Weekly, was a 2012 ALA Quick Pick for Reluctant Readers, sold to nine countries, and was optioned for television by Warner Brothers.
First impression of FORGET ME?
Jen: The cover totally creeped me out, but in a good way. Dopplegangers fascinate me as well and I was really curious to see how this story played out.
Malissa: I didn't get the creepy aspect, but I was totally drawn in. I needed to know why everything was so ghostly and what does this very prominent carousel have to do with anything. This is definitely a book I would pick up just because the cover caught my attention.
What stood out to you while reading?
Jen: I was pleasantly surprised at how engrossing this story was, and I had a difficult time putting it down because I NEEDED TO KNOW what was going on! The friendship between Morgan and Toni was a nice change from the girl drama stories I've read recently.
Malissa: I was really taken by this book. I was totally on the edge of my seat the whole time because I just wanted to know what the heck was going on. Seriously, in most books I can feel out the plot and figure out what is going to happen before it does, but this...color me surprised and it was awesome! Oh and Jen, I loved the girls relationship as well. It felt real, it's how I remembered being in high school with my best friend. We might get pulled in different directions (particularly when it came to buys) but we were always there for each other in the end. I wish that were more BFF relationships like this one in books.
Malissa: Evan, absolutely Evan...but Finn, well Finn, I can totally see the draw.
Jen: Evan.
Malissa: You want to pick this up. FORGET ME is going to take you on one heck of a roller coaster ride (not meant to be puny), you'll swoon (don't get me started on boys on baseball teams), you will hold your breath, you will want to scream out in disbelief, and you will be hooked!
Jen: FORGET ME is addictive, thrilling, romantic and the BFF's made me smile!