While this is primarily a YA blog, I do, on occasion, stumble across some pretty fantastic adult books that I just HAVE TO TELL YOU ABOUT!
The FBI/US Attorney Series by Julie James is one of them.

The writing is smart, the characters intelligent and engaging, (especially the female MCs) and I walk away feeling like I've learned something in addition to reading a really great romance!
You should definitely check these out. Be sure to enter the GIVEAWAY too!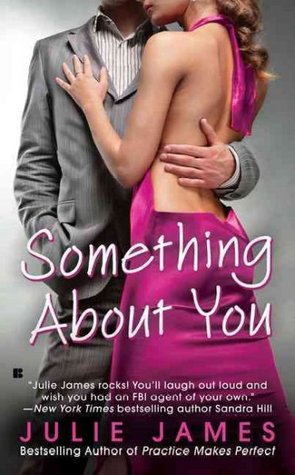 SOMETHING ABOUT YOU
(FBI/US Attorney #1)
Fate has thrown two sworn enemies...

Of all the hotel rooms rented by all the adulterous politicians in Chicago, female Assistant U.S. Attorney Cameron Lynde had to choose the one next to 1308, where some hot-and-heavy lovemaking ends with a death. And of all the FBI agents in Illinois, it had to be Special Agent Jack Pallas who gets assigned to this high-profile homicide. The same Jack Pallas who still blames Cameron for a botched crackdown three years ago—and for nearly ruining his career.

Into each other's arms...

Work with Cameron Lynde? Are they kidding? Maybe, Jack thinks, this is some kind of welcome-back prank after his stint away from Chicago. But it's no joke; the pair is going to have to put their rocky past behind them and focus on the case at hand. That is, if they can cut back on the razor-sharp jibes—and smother the flame of their sizzling-hot sexual tension.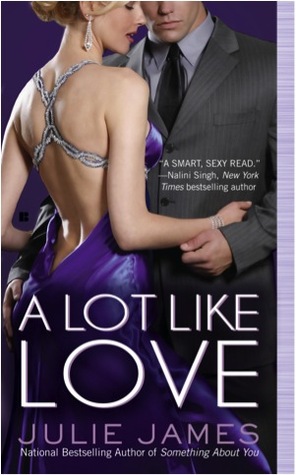 A LOT LIKE LOVE
(FBI/US Attorney #2)
The FBI wants her cooperation...


As the daughter of a billionaire and the owner of the city's top wine store, Jordan Rhodes is invited to the most exclusive parties in Chicago. But there's only one party the FBI wants to crash: the charity fundraiser of a famous restaurateur, who also happens to launder money for the mob. In exchange for her brother's release from prison, Jordan is going to be there—with a date supplied by the Bureau.

Agent McCall just wants her...

As the top undercover agent in Chicago, Nick McCall has one rule: never get personal. This "date" with Jordan Rhodes is merely an assignment—one they're both determined to pull off even if they can't be together for five minutes before the sarcasm and sparks begin to fly. But when Nick's investigation is compromised, he and Jordan have no choice but to pretend they're a couple, and what starts out as a simple assignment begins to feel a lot like something more.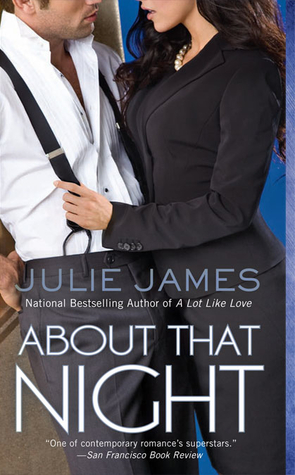 ABOUT THAT NIGHT
(FBI/US Attorney #3)*
He's Playing Games

Though Rylann Pierce tried to fight the sparks she felt for billionaire heir Kyle Rhodes the night they met, their sizzling chemistry was undeniable. But after being stood up on their first date, Rylann never expected to see him again. So when she finds herself face-to-face with Kyle in a courthouse nine years later, she's stunned. More troubling to the beautiful assistant U.S. attorney is that she's still wildly attracted to him.

But She's Making The Rules

Just released from prison, Kyle Rhodes isn't thrilled to be the star witness in a high-profile criminal case—but when Rylann comes knocking at his door, he finds she may be the one lawyer he can't say no to. Still as gorgeous and sharp-tongued as ever, she lays down the law: she doesn't mix business with pleasure. But Kyle won't give up on something he wants—and what he wants is the one woman he's never forgotten.
*This one is my favorite in the series so far!
Rylann doesn't put up with anything and this is how I imagine Kyle looks in all his flannel shirt wearing glory.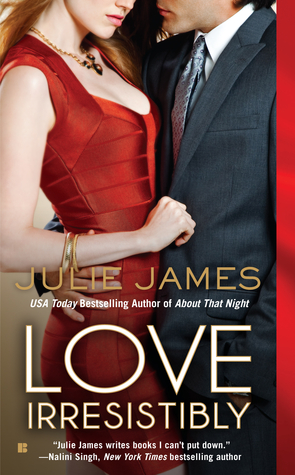 LOVE IRRESISTIBLY (FBI/US Attorney #4)
HE'S USED TO GETTING WHAT HE WANTS…

A former football star and one of Chicago's top prosecutors, Assistant U.S. Attorney Cade Morgan will do anything to nail a corrupt state senator, which means he needs Brooke Parker's help. As general counsel for a restaurant company, she can get a bug to the senator's table at one of her five-star restaurants so the FBI can eavesdrop on him. All Cade has to do is convince Brooke to cooperate—and he's not afraid to use a little charm, or the power of his office, to do just that.

AND WHAT HE WANTS IS HER.

A savvy businesswoman, Brooke knows she needs to play ball with the U.S. Attorney's office—even if it means working with Cade. No doubt there's a sizzling attraction beneath all their sarcastic quips, but Brooke is determined to keep things casual. Cade agrees—until a surprising turn of events throws his life into turmoil, and he realizes that he wants more than just a good time from the one woman with whom he could fall terrifyingly, irresistibly in love . . .
IT HAPPENED ONE WEDDING (FBI/US Attorney #5)
SHE KNOWS BETTER THAN TO SAY "I DO"

After a humiliating end to her engagement, investment banker Sidney Sinclair is done with commitment-phobic men. But when her sister winds up engaged after a whirlwind courtship, she's thrown in to close contact with exactly the kind of sexy playboy she wants to avoid—the gorgeous best man. She's stuck with him, for better or worse, until her sister walks down the aisle, but that doesn't mean she has to give in to his smooth advances, no matter how tempting they are…

BUT HE MAKES IT HARD TO SAY "I DON'T"

Special Agent Vaughn Roberts always gets his man on the job and his woman in bed. So Sidney's refusal to fall for his charms only makes him more determined to win over the cool and confident redhead. Only what starts out as a battle of wills ends up as a serious play for her heart. Because the one woman who refuses to be caught may be the only one Vaughn can't live without…
~ Coming Soon ~
SUDDENLY ONE SUMMER (FBI/US Attorney #6)
Expected Publication: May 5, 2015
From the New York Times bestselling author of It Happened One Wedding comes a novel about a man and a woman whose summer is about to get very, very steamy…

Divorce lawyer Victoria Slade has seen enough unhappy endings to swear off marriage forever. That doesn't mean she's opposed to casual dating—just not with her cocky new neighbor, who is as gorgeous and tempting as he is off-limits. But once she agrees to take on his sister's case, she's as determined to win as ever—even if that means teaming up with Ford…

Investigative journalist Ford Dixon is bent on finding the man who got his sister pregnant and left her high and dry. He's willing to partner with Victoria, despite the fact that the beautiful brunette gets under his skin like no other woman. He might not be looking to settle down, but there's no denying the scorching attraction between them. Still, the more time he spends with Victoria, the more he realizes that the one woman as skeptical about love as he is might be the only woman he could really fall for…
~ About the Author ~
After graduating from law school, New York Times and USA Today bestselling author Julie James clerked for the United States Court of Appeals. She then practiced law with one of the nation's largest firms for several years until she began writing screenplays. After Hollywood producers optioned two of her scripts, she decided to leave the practice of law to write full-time.
Julie's books have been listed on the American Library Association's Reading List for Top Genre Novels, Booklist's Top 10 Romances of the Year, and have been featured as one of Cosmopolitan magazine's Red Hot Reads. Her books have been translated into sixteen languages and Julie's seventh novel, It Happened One Wedding, is now available.
Julie James lives with her husband and two children in Chicago, where she is currently working on her next book.
~ GIVEAWAY~
The fantastic people at Berkley are providing
the first 3 books in the FBI/US Attorney series to one winner!
a Rafflecopter giveaway