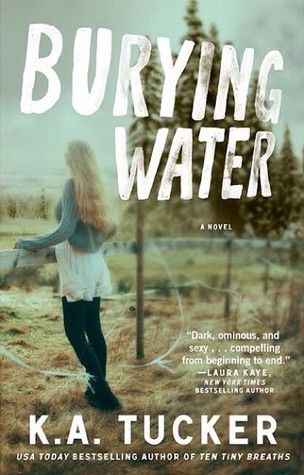 Series:
Burying Water #1
Author:

K.A. Tucker
Published: 10/7/2014
By Simon & Schuster Audio

Narrator: Elizabeth Louise, Josh Goodman
Amazon | Barnes & Noble | Goodreads
4 Stars!
The top-selling, beloved indie author of Ten Tiny Breaths returns with a new romance about a young woman who loses her memory—and the man who knows that the only way to protect her is to stay away.

Left for dead in the fields of rural Oregon, a young woman defies all odds and survives—but she awakens with no idea who she is, or what happened to her. Refusing to answer to "Jane Doe" for another day, the woman renames herself "Water" for the tiny, hidden marking on her body—the only clue to her past. Taken in by old Ginny Fitzgerald, a crotchety but kind lady living on a nearby horse farm, Water slowly begins building a new life. But as she attempts to piece together the fleeting slivers of her memory, more questions emerge: Who is the next-door neighbor, quietly toiling under the hood of his Barracuda? Why won't Ginny let him step foot on her property? And why does Water feel she recognizes him?

Twenty-four-year-old Jesse Welles doesn't know how long it will be before Water gets her memory back. For her sake, Jesse hopes the answer is never. He knows that she'll stay so much safer—and happier—that way. And that's why, as hard as it is, he needs to keep his distance. Because getting too close could flood her with realities better left buried.

The trouble is, water always seems to find its way to the surface.
* I received this audiobook from the publisher in exchange for an honest review*
Story: This was my first K.A. Tucker book. I enjoyed the dual POV and timeline and I'm not sure I've come across a Russian Mafia theme in NA yet, which made for a unique and interesting story.
I didn't buy into the immediate connection between Jesse and Water. In fact, I thought it was a little too "insta-ish", but it got better as the story unfolded. The tough love family dynamic between the Welles' felt completely relateable and I enjoyed watching them interact. Ginny was a tough old biddy, but her story was one of heartbreak and survival and I LOVED her! Watching the relationship between her and Water was painful and beautiful all at the same time.
I liked how this story addresses domestic violence and shows the reasons why some women choose to stay even if it doesn't make sense.
My only real qualm was how quickly Victor's storyline wrapped up. We spend the majority of the book waiting for the other shoe to drop and it never really does. Victor gets explained away far too easily to be believable in my opinion.
Audio: Elizabeth Louise has a high voice which not only makes her sound young, but I found it slightly grating at times. Josh Goodman does a decent job bringing Jesse to life, however, neither seemed able to really differentiate between their multiple characters.