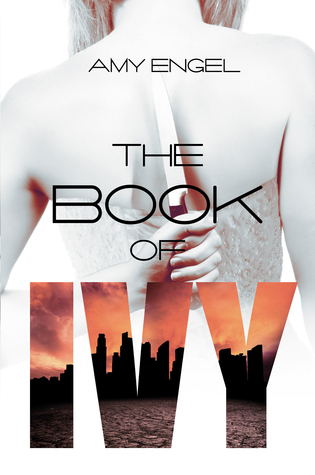 Series: The Book of Ivy #1
Author: Amy Engel
Audiobook Publisher: Random House Audio
Publisher: Entangled: Teen (November 11, 2014)
Goodreads | Amazon | Audiobook
4 Stars!
After a brutal nuclear war, the United States was left decimated. A small group of survivors eventually banded together, but only after more conflict over which family would govern the new nation. The Westfalls lost. Fifty years later, peace and control are maintained by marrying the daughters of the losing side to the sons of the winning group in a yearly ritual.

This year, it is my turn.

My name is Ivy Westfall, and my mission is simple: to kill the president's son—my soon-to-be husband—and restore the Westfall family to power.

But Bishop Lattimer is either a very skilled actor or he's not the cruel, heartless boy my family warned me to expect. He might even be the one person in this world who truly understands me. But there is no escape from my fate. I am the only one who can restore the Westfall legacy.

Because Bishop must die. And I must be the one to kill him…
The Audio: The narrator is a bit slow at times and I wasn't crazy about the voice she lends to Bishop, however, she does get better the farther you listen.
The Story: My initial thoughts upon finishing The Book of Ivy was this...
This is an intense story of love, family, romance, and betrayal, that kept me on the edge of my seat (with my heart in my throat) until the very end!
I wasn't really sure what to expect
when I started this book, but quickly found the world Amy Engel created and the idea of arranged marriages, unique and interesting.
Ivy has one job. Kill
her new husband Bishop.

It's something she's been preparing for all her life, and seems simple enough, right?
Wrong.
Ivy has always believed Bishop and his family are the bad guys, the enemy, and her family the rightful leaders. But the more she gets to know her new husband, the more she starts to question everything she's ever been told and whether or not she can go through with the plan. Because Bishop isn't anything like Ivy was expecting. He isn't cruel or selfish, nor does he appear to have ulterior motives.
Instead, Bishop is kind,
compassionate and seems to genuinely care for Ivy.
PLUS, he

cooks, cleans and does the laundry. THE LAUNDRY! I'd keep him around for those reasons alone, not to mention he's very nice to look at. But more importantly, Bishop "gets" Ivy in a way no one else does, not even her family,
which makes her job that much more difficult.
As the clock ticks down, and the romantic tension amps up, Ivy will have to choose between the boy she's sworn to love for the rest of her life, and the family she's promised to avenge.
This does have a cliff hangar ending, so prepare accordingly. (I suggest choosing which corner you'd prefer to rock in ahead of time and fill it with snacks.)
I am REALLY looking forward to Book Two!
Fans of Delirium, The Selection, The Red Queen, and Matched will enjoy this one!