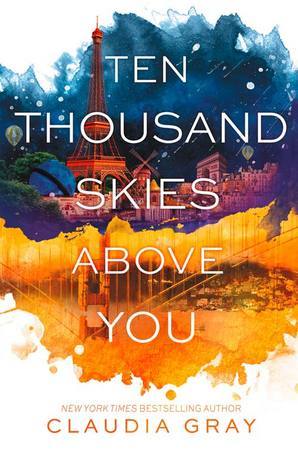 Series: Firebird
Author:
Claudia Gray
Publication: November 3, 2015
By:
Harper Teen
Amazon | B&N | Goodreads
Ever since she used the Firebird, her parents' invention, to cross into alternate dimensions, Marguerite has caught the attention of enemies who will do anything to force her into helping them dominate the multiverse—even hurting the people she loves. She resists until her boyfriend, Paul, is attacked and his consciousness scattered across multiple dimensions.

Marguerite has no choice but to search for each splinter of Paul's soul. The hunt sends her racing through a war-torn San Francisco, the criminal underworld of New York City, and a glittering Paris where another Marguerite hides a shocking secret. Each world brings Marguerite one step closer to rescuing Paul. But with each trial she faces, she begins to question the destiny she thought they shared.

The second book in the Firebird trilogy, Ten Thousand Skies Above You features Claudia Gray's lush, romantic language and smart, exciting action, and will have readers clamoring for the next book.
*Thank you Kaye Publicity for sending me a copy in exchange for an honest review*
First Impressions: Love the cover. Evil cliffhanger is EVIL. Second books always give me pause because they have a lot to live up to, and so often they fall short. Not so with this one.
The characters are stronger, the action more intense, and the romance more bittersweet. I spent most of this book anxious and worried--in a good way. Every time I thought I figured out what was going on, with whom, and in what verse, I got turned around again. Basically, if there were multiverses we could travel between, this version of me would no doubt get herself lost and killed.
The ending, while EVIL, was not a huge surprise for me. But it still left me like...
Because I JUST WANT EVERYONE TO BE OKAY AND HAPPY AND ALIVE IS THAT TOO MUCH TO ASK, CLAUDIA?!
The wait for the final book feels forever away.