Welcome to Jenuine Cupcakes!
This is my stop on the CAPTIVE blog tour.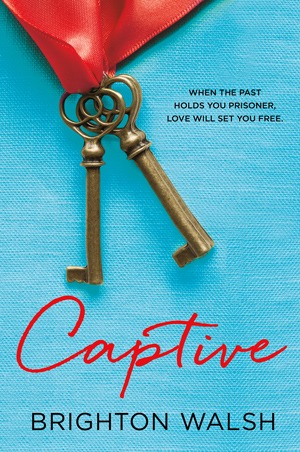 Series:
Captive #1
Author:
Brighton Walsh
Publication: March 24, 2015
By: St. Martin's Griffin
New Adult | Ages 18+
Amazon | B&N | Goodreads
He's the most dangerous man she's ever met…and she's falling in love with him.

Madison Frost is desperate to escape her life. Daughter of a prominent businessman, she has everything a girl could ask for. Except for a family who's present in her life, and anyone to talk to outside the four walls of the prison she calls home. Madison dreams of one day leaving her life behind. She never thought being kidnapped is how it would happen.

Now she's being held captive by a man who's as frightening as he is sinfully gorgeous. Enormous, muscular, and filled with secrets, the man they call Ghost is an enigmatic mercenary, and Madison is trapped with him. She doesn't know who hired him or why, but the more time she spends at his mercy, the more she realizes he's not what he seems. Beneath his rough exterior lies an unexpected gentleness and a heart as broken and battered as her own.

But as Madison lets down her walls, Ghost holds tight to his, hiding secrets that could destroy everything.
~ Character Interview: Ghost ~
Hi Ghost, I'm glad you could join me!
*offers you a cupcake and one for Madison too*

*takes it and eats it in two bites*
Thanks, these are good.
<--New favorite book guy. ;)
What is your favorite color?
Gray

What song best describes your relationship with Madison?
Metallica, Nothing Else Matters
<-- LOVE THIS SONG.
If you could take Madison on a date anywhere in the world, where would you take her?
Since she was young, she's been all over the world on trips with her parents, so there's nothing new I could show her. Though if we went together, she'd have a hell of a lot more fun than she ever did with those two a**holes. She's mentioned before wanting to go back to Rome, so I guess that would be my pick for her.
If you could give your brother, Riley one piece of advice (personal or professional), what would it be?
That it's not always about the job. And I've told him this a thousand times, but another one doesn't hurt: always follow your gut.


I ask all of my blog guests this one, brownies, cupcakes, or pie?
Pie.
Brighton Walsh spent nearly a decade as a professional photographer before deciding to take her storytelling in a different direction and reconnect with writing. She lives in the Midwest with her husband and two children.
~ Giveaway ~
One winner will receive a copy of CAPTIVE by Brighton Walsh
To be distributed by St. Martin's Press
U.S./Canada Only
Must be 13 years old to enter.
a Rafflecopter giveaway