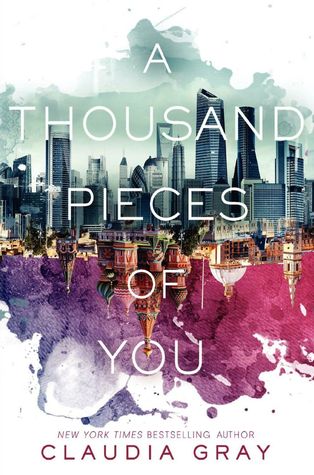 Series: Firebird #1
Publication: November 4, 2014
By: Harper Teen
Amazon | B&N | Goodreads
3.5 Stars
Every Day meets Cloud Atlas in this heart-racing, space- and time-bending, epic new trilogy from New York Times bestselling author Claudia Gray.

Marguerite Caine's physicist parents are known for their radical scientific achievements. Their most astonishing invention: the Firebird, which allows users to jump into parallel universes, some vastly altered from our own. But when Marguerite's father is murdered, the killer—her parent's handsome and enigmatic assistant Paul—escapes into another dimension before the law can touch him.

Marguerite can't let the man who destroyed her family go free, and she races after Paul through different universes, where their lives entangle in increasingly familiar ways. With each encounter she begins to question Paul's guilt—and her own heart. Soon she discovers the truth behind her father's death is more sinister than she ever could have imagined.

A Thousand Pieces of You explores a reality where we witness the countless other lives we might lead in an amazingly intricate multiverse, and ask whether, amid infinite possibilities, one love can endure.
*Thank you Kaye Publicity for sending a finished copy in
exchange for an honest review*
I had the pleasure of meeting Claudia at this year's Baltimore Book Festival and was excited to read this!
The cover is gorgeous and none of the pictures do it justice. Well-written with fantastic world-building and attention to detail, I was able to visualize each unique dimension. The pacing is good too, but the extended time in Russia threw me off. I'm still not entirely sure why there was so much focus on that other than to ramp up the romance.
Speaking of...

there is a love triangle involved, so if that isn't your thing, you may want to wait until the series is completed in order to binge read them.
This book was smarter than I am. Math and Science are not my strong points and I spent a good deal of this story confused. I had to reread several portions to make sure I had a general idea of what was going on, but even that became distracting.
I think the point of the romance was to show how we love all the different parts/sides of the same person and true love transcends all time and space, but I couldn't wrap my head around whether the characters still had the same soul or DNA as in the original dimension. If not, then wouldn't they actually BE different people entirely, not just different versions?
If so, then the love you feel for someone wouldn't change. You wouldn't have trouble recognizing the person you love or remembering how you feel about them. Nor would you have to "try" to love the current version of them. Right? Maybe. Maybe not.
The ending felt a bit abrupt but ends with enough satisfaction that readers will be anxious for the next installment. Fans of Sci-Fi, time travel and mind-bending stories with a heaping dose of romantic tension will enjoy this!