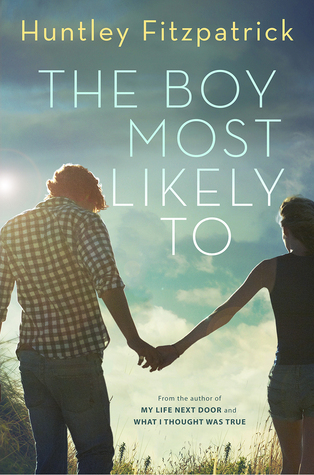 Author:
Huntley Fitzpatrick
Publication: August 18, 2015
By: Dial Books
Amazon | B&N | Goodreads
NOT.ENOUGH.STARS.IN.THE.UNIVERSE.
A surprising, utterly romantic companion to My Life Next Door—great for fans of Sarah Dessen and Jenny Han

Tim Mason was The Boy Most Likely To find the liquor cabinet blindfolded, need a liver transplant, and drive his car into a house

Alice Garrett was The Girl Most Likely To . . . well, not date her little brother's baggage-burdened best friend, for starters.

For Tim, it wouldn't be smart to fall for Alice. For Alice, nothing could be scarier than falling for Tim. But Tim has never been known for making the smart choice, and Alice is starting to wonder if the "smart" choice is always the right one. When these two crash into each other, they crash hard.

Then the unexpected consequences of Tim's wild days come back to shock him. He finds himself in a situation that isn't all it appears to be, that he never could have predicted . . . but maybe should have.

And Alice is caught in the middle.

Told in Tim's and Alice's distinctive, disarming, entirely compelling voices, this novel is for readers of The Spectacular Now, Nick and Norah's Infinite Playlist, and Paper Towns.
~ My Thoughts ~
Can the Garretts adopt me now?
To read my review of where my love affair with the Garretts, click HERE
Thank you, Huntley Fitzpatrick for sending me a signed ARC!
It was a struggle not to read this in one sitting because I so enjoyed being back in this setting with these characters and NEEDED TO KNOW what happened, but I also wanted to savor every minute I spent with them, line by line.

Sharing headspace with Tim and Alice was not easy, in fact, it was utterly heartbreaking at times. But this story is brimming with love, forgiveness, acceptance, and redemption. I laughed, I cried, I swooned, and I laughed some more.

The twists and turns kept me reading and I lovedlovedloved the romance that developed, but it was the growth these characters experienced--mostly Tim, especially Tim, that made me love it so much. The end left me smiling through my happy tears AND made me long for more books devoted to every single one of the Garrett children, even the one yet to be born. ;)
Read it.
Favorite Quote(s):
"It was kind of like when the Cowardly Lion cries." ~ George
Stark naked, except for one of my black thongs dangling from her neck, a flowered push-up bra draped across her pale little chest like a Miss America sash, and a bright red lacy garter belt perched on her fluffy hair like a tiara, hanging across one brown eye.
Both Jase and Time are openly laughing, like a relief valve has opened.
Tim scoops her up. "You, Patricia Garrett, are my kind of girl."
"That must have been some party." George sighs. "All I ever get to take home is a bunch of gum and Super Balls and squirt guns and stuff."
"The longest kiss was fifty-eight hours. Do you think they did that without drinking water? Wouldn't they die, Alice? How'd they pee?"
"Go. 'Way. Bye-bye, you," Patsy tells her, not willing to compete further for my affections. "Mines."
"No." Alice fixes her with her fiercest glare. "Mines."
Maybe thinking any one person can show up and give you all you need is as much of a delusion as thinking you can find truth in a bottle. Maybe you can just find what you need in little pieces, in people who show up for one crucial moment---or a whole chain of them---even if they can't solve it all.
Here's a little inspiration I found on Pinterest.
~ About the Author ~