I LOVE THIS BOOK SO HARD!
Okay, so now that we've established that, welcome to Jenuine Cupcakes!
Follow the rest of the tour HERE.
Publication: March 3rd 2015
By: Farrar Straus Giroux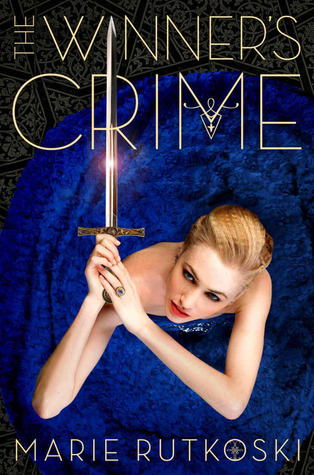 Following your heart can be a crime



A royal wedding is what most girls dream about. It means one celebration after another: balls, fireworks, and revelry until dawn. But to Kestrel it means living in a cage of her own making. As the wedding approaches, she aches to tell Arin the truth about her engagement: that she agreed to marry the crown prince in exchange for Arin's freedom. But can Kestrel trust Arin? Can she even trust herself? For Kestrel is becoming very good at deception. She's working as a spy in the court. If caught, she'll be exposed as a traitor to her country. Yet she can't help searching for a way to change her ruthless

 

world . . . and she is close to uncovering a shocking secret.

 





This dazzling follow-up to

The Winner's Curse

reveals the high price of dangerous lies and untrustworthy alliances. The truth will come out, and when it does, Kestrel and Arin will learn just how much their crimes will cost them.
Marie Rutkoski
is the author of
The Winner's Curse
,
The Shadow Society
, and the Kronos Chronicles, which includes
The Cabinet of Wonders
. She is a professor at Brooklyn College and lives in New York City. marierutkoski.com


This book ripped my heart out in that-this is an amazing second book-kind of way. (Here's hoping the final book stitches it back together again. And has lots of kissing. LOTS.)


Marie's writing is stunningly beautiful and this story she's created; the characters, the world-building, the plot, is nothing short of perfection. PERFECTION!

It was a challenge not to devour THE WINNERS CRIME in one sitting, but I was afraid I might miss something if I did. The plot twists and turns kept me on the edge of my seat with my tattered heart in my throat. I savored as much of it as possible until I could no longer resist the urge to finish it. When I did, I was sitting on my bathroom floor at 12:30a.m. hoping my crying wouldn't wake my family up.

It's rare, for me, to love a "second book" even more than the first, but THE WINNER'S CRIME accomplished that. And the line for Arin still starts behind me, but it's okay because there are cupcakes. :D

If you haven't started this series yet, WHAT ARE YOU WAITING FOR?!
Q: If THE WINNER'S CRIME had a theme song, what would it be?
A: U2's "With or Without You." I always like the double meaning in the lyric "and you give yourself away," which can suggest letting slip something you meant to keep secret, and also sacrificing yourself.

<-- I LOVE this song!
Q: Arin has to spend one day in our world, where does he go and why?
A: A quiet Mediterranean beach. Let's give our boy a holiday. He needs it.

<-- Agreed! Can I come too?
Q: What is your favorite color?
A: I've always liked Prussian blue.
Q: You have the chance to ask Shakespeare one question, what do you ask him?
A: Where can I find your lost plays?
Q:

I ask all of my blog guests this question...Brownies, cupcakes, or pie? No pressure, I promise! ;)
A: CUPCAKES.

<-- I knew I liked you, Marie!
1 HC Copy of THE WINNER'S CRIME by Marie Rutkoski
Must be 13 years old to enter.
a Rafflecopter giveaway