*I received copies of both books from the publisher in exchange for honest reviews*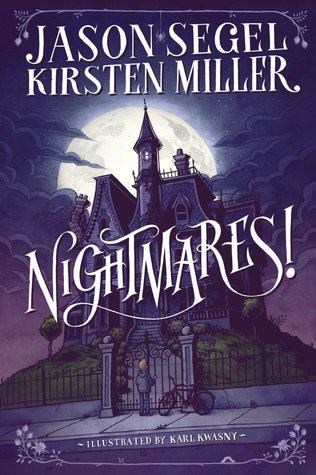 A New York Times Bestseller!
Jason Segel, multitalented actor, writer, and musician, teams up with New York Times bestselling author Kirsten Miller for the hilariously frightening, middle-grade novel Nightmares!, the first book in a trilogy about a boy named Charlie and a group of kids who must face their fears to save their town.

Sleeping has never been so scary. And now waking up is even worse!

Charlie Laird has several problems.

1. His dad married a woman he is sure moonlights as a witch.
2. He had to move into her purple mansion, which is NOT a place you want to find yourself after dark.
3.He can't remember the last time sleeping wasn't a nightmarish prospect. Like even a nap.

What Charlie doesn't know is that his problems are about to get a whole lot more real. Nightmares can ruin a good night's sleep, but when they start slipping out of your dreams and into the waking world—that's a line that should never be crossed.

And when your worst nightmares start to come true . . . well, that's something only Charlie can face. And he's going to need all the help he can get, or it might just be lights-out for Charlie Laird. For good.
~ 10 year old's Thoughts ~
Describe Nightmares in 5 words:

Fun. Exciting. Adventures. Funny. Awesome.

Did you the like the book? Yeah! The guy who wrote it did a good job.



What I liked:

The fact that Charlie and Jack are brothers. And the purple mansion they live in.





Was it scary?

Only if you're Charlie. Regu

lar kids who read it shouldn't be scared.





What are some of the nightmares in the story?

Clowns, cockroaches, the dark, grubs, man-eating rabbits, zombies, fitness exams (like, if you're not athletic at all), and failing regular tests.

Favorite character: Jack. He's Charlie's brother who always wears a Captain America costume. Their mom made for Charlie but then she died and he outgrew it so he gave it to Jack.

Did you learning anything? Not everything is as bad as we think.

On a scale of 1-5, how many stars would give Nightmares? I would give it 7 stars and I'm excited for the next one!

Author(s):
Jason Segel

,

Kirsten Miller
Karl Kwasny
Publication: September 8th 2015
By: Delacorte Books for Young Readers
Amazon | B&N | Goodreads
Describe The Sleepwalker Tonic in 5 words:

Awesome. Exciting. Funny. Thrilling. Fantastic.



What did you the like?

It picks up where Nightmares left off. The characters get to eat ice cream and there are zombies.





Was it scary?

No. It's more silly than scary.





Was is the purpose of the tonic?

People who don't want to have nightmares are told they can drink it and they'll get a good night's sleep. But that isn't what happens. They turn into Walkers who sleepwalk and end up feeling discouraged.



Favorite character:

Jack, still.



Did you learning anything? It's better to give people hope than to discourage them.

On a scale of 1-5, how many stars would give The Sleepwalker Tonic?

6 stars!