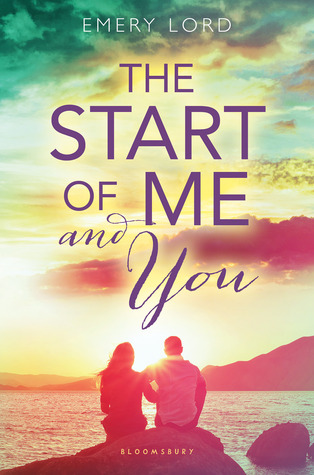 Author: Emery Lord
Publication: March 31, 2015
By: Bloomsbury
Amazon | B&N | Goodreads
3.75 Stars
Following her pitch-perfect debut Open Road Summer, Emery Lord pens another gorgeous story of best friends, new love, & second chances.

Brimming with heartfelt relationships and authentic high-school dynamics The Start of Me and You proves that it's never too late for second chances.

It's been a year since it happened—when Paige Hancock's first boyfriend died in an accident. After shutting out the world for two years, Paige is finally ready for a second chance at high school . . . and she has a plan. First: Get her old crush, Ryan Chase, to date her—the perfect way to convince everyone she's back to normal. Next: Join a club—simple, it's high school after all. But when Ryan's sweet, nerdy cousin, Max, moves to town and recruits Paige for the Quiz Bowl team (of all things!) her perfect plan is thrown for a serious loop. Will Paige be able to face her fears and finally open herself up to the life she was meant to live?
*I received this ARC from the publisher in exchange for an honest review*
Thank you, Lizzy Mason for sending me an early copy of this!
I went into The Start Of Me And You with a mix of trepidation and excitement. This has been one the most hyped books on my radar over the past few months, and I was terrified of being "that one person" who it fell short for. And I'll be honest, this book left me feeling really frustrated. I'll touch on that in a minute, but first, here's what I thoroughly enjoyed...
The writing, the characters, the family dynamic and the friendships. Oh, and Max. I LOVED that he wasn't the stereotypical YA book boy! NERDS FOR THE WIN!
I liked that Paige pushed herself to try new things and had friends who support her. We should all be so fortunate to have a close-knit group of friends where secret crushes, jealousy, hurt feelings or long lasting riffs do not exist, especially once you introduce boys into the equation.
There were times however, when I felt like the lack of issues within the group (P/R/T) wasn't entirely realistic, but w

hether this was/is your experience with friendships or not, stories like this are NEEDED because they infuse the world of YA with positivity and hope.
(FTR, my own HS experience with a guy/girl group of friends looked more like an episode of 90210--the original---than this story.)
Paige's preoccupation with the death of her first boyfriend seemed a little much to me. Yes, I *got* that people were making it difficult for her to move on, but still. It would have made more sense if they had been dating longer than a couple of months or if she had witnessed his death. For me, the scene with Paige and Max at the Y was more poignant than the trampoline party. That felt like it was added as a reminder that she hadn't gotten closure yet.
Speaking of Max, I REALLY enjoyed watching his relationship with Paige develop. The closet scene alone made me laugh out loud, but I wanted more at the end. (And by more, I mean, kissing.) Seriously though, they go through quite a bit before acknowledging their feelings for one another and then---it ends.
Despite my few misgivings, this IS a really good book! Read it.