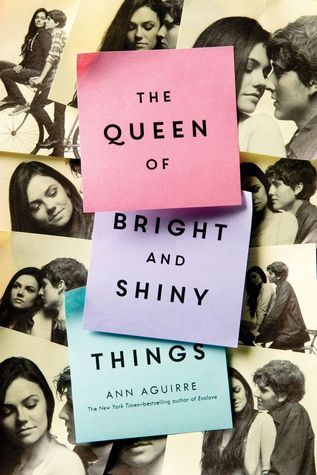 Author: Ann Aguirre
Publication: April 7, 2015
By: Feiwel & Friends
Amazon | B&N | Goodreads
Sage Czinski is trying really hard to be perfect. If she manages it, people won't peer beyond the surface, or ask hard questions about her past. She's learned to substitute causes for relationships, and it's working just fine… until Shane Cavendish strolls into her math class. He's a little antisocial, a lot beautiful, and everything she never knew she always wanted.

Shane Cavendish just wants to be left alone to play guitar and work on his music. He's got heartbreak and loneliness in his rearview mirror, and this new school represents his last chance. He doesn't expect to be happy; he only wants to graduate and move on. He never counted on a girl like Sage.

But love doesn't mend all broken things, and sometimes life has to fall apart before it can be put back together again…
*I received this ARC from the Publisher in exchange for an honest review*
A big THANK YOU to Molly for hooking me up with this super fun package!
The letter inside asked me to share the extra copy with a fellow blogger, so I shared mine with Brooke from The Cover Contessa.
Post-it generated at http://notes.mastervb.net/
Just in case you were wondering, you can not lift these Post-it notes on the cover up.
For an embarrassingly long time.
The Queen of Bright And Shiny Things was such a pleasant surprise!
I loved the adorably quirky characters, the witty banter and how important it was to Sage to make the world around her, better. From cleaning up the environment,
posting notes of encouragement on other students' locker, to making sure Shane, the new guy with a dark past and kind blue eyes, got home safely in the dark.
Reflective glow strips and all.
This is one of those stories that sneaks up on you. You think you know what you're getting into, but that's okay because it's even better! Plenty of moments made me laugh, but it isn't all sunshine and glitter Sharpie's. It kicked me in the feels too--hard. One scene in particular made me cry. But this story is so full of hope that it makes all the heart-wrenching stuff worth it.
Read it.
Want to win an ARC of
The Queen of Bright And Shiny Things?
(Hint: Your answer is YES!)
a Rafflecopter giveaway