Welcome to Jenuine Cupcakes!
The Blogger in the Spotlight today is, Laura, from Music Plus Books!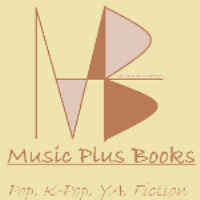 Music Plus Books is a fun blog for music and book lovers alike!
Laura even dabbles in blog design, so you should definitely check her out.
Hi Laura! Can you tell me a little bit about yourself? (Maybe something that isn't included in the About Me section of your blog?)
I don't know if anyone cares but I'm actually Asian! Proud Vietnamese Aussie.

(I happen to think that's pretty awesome!)

When someone says, "Oh, you have a blog? What is is about?" How do you answer that?
My blog is all about the books and music that I both enjoy and don't enjoy. I just like to share and interact with my followers.
What is your favorite genre to read and why?
I love YA! I don't think I can choose a specific subgenre because I honestly love all of them. YA is just so addicting. I love the age groups and the writing. Some adult books just take so much energy to read, understand and comprehend.
What is your favorite book, EVER?
Hard but I'd have to say The Sea of Tranquility by Katja Millay!
(Josh. That is all.)
Do you prefer ebooks or real books?
Honestly, I read both. I prefer real books but I probably read more ebooks.
If you could spend the day with any book character OR musician, who would you choose and where would you go?
Cries! I'd want to go with a famous musician but then they won't have magic. So I have to go for, Magnus Bane! City of Bones <3
<---This. Especially if he looks like movie Magnus, because O.O
What song is on repeat on your iPod, in your car or in your head right now? (Mine is Royals by Lorde)
OMG I love Royals too! Right now, I just have the whole With Love album by Christina Grimmie on repeat. Especially loving I Bet You Don't Curse God right now.
Favorite concert or music festival you attended?
I have a really sad life, I've never been to one!
Least favorite thing to eat?
I love all food but I'd have to say really spicy food.
What do you want to be when you grow up?
I'm not 100% but I want to be a teacher.
Blogging goal for this year?
To post at least 20 times a month for the rest of the year!
Music Plus Books' One Year Blogaversary is just a few days away and you can help Laura celebrate! She has lots of fun planned, like a giveaway-a-day beginning on the 16th and a massive $150 giveaway before it's all finished!