Welcome to Jenuine Cupcakes,
this is my stop on the Hook's Revenge blog tour!
About the Book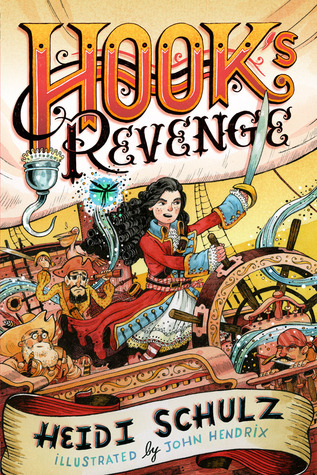 Author:
Heidi Schulz
Illustrator:
John Hendrix
Published:
September 16th 2014
By:
Disney-Hyperion
Genre: Middle Grade
4 Stars!
Captain Hook's feisty daughter hits the high seas to avenge her father's death at the jaws of the Neverland crocodile in Heidi Schulz's spirited middle-grade debut.

Twelve-year-old Jocelyn dreams of becoming every bit as daring as her infamous father, Captain James Hook. Her grandfather, on the other hand, intends to see her starched and pressed into a fine society lady. When she's sent to Miss Eliza Crumb-Biddlecomb's Finishing School for Young Ladies, Jocelyn's hopes of following in her father's fearsome footsteps are lost in a heap of dance lessons, white gloves, and way too much pink.

So when Jocelyn receives a letter from her father challenging her to avenge his untimely demise at the jaws of the Neverland crocodile, she doesn't hesitate-here at last is the adventure she has been waiting for. But Jocelyn finds that being a pirate is a bit more difficult than she'd bargained for. As if attempting to defeat the Neverland's most fearsome beast isn't enough to deal with, she's tasked with captaining a crew of woefully untrained pirates, outwitting cannibals wild for English cuisine, and rescuing her best friend from a certain pack of lost children, not to mention that pesky Peter Pan who keeps barging in uninvited.

The crocodile's clock is always ticking in Heidi Schulz's debut novel, a story told by an irascible narrator who is both dazzlingly witty and sharp as a sword. Will Jocelyn find the courage to beat the incessant monster before time runs out?
~ Guest Post ~
Hi Jen! Since you are a cupcake baker (yum!), I thought I'd introduce your readers to one of my favorite members of Jocelyn's pirate crew, Nubbins, the ship's cook.
Nubbins has a passion for food, and an ability to elevate even the most mundane or disgusting ship's fare into something delicious.
Take hardtack, for example. Hardtack is a kind of cracker made from flour, water, and salt. It was a staple aboard ships because it was cheap, easy to make, and, if kept dry, it could last up to 50 years! The downside? It was hard enough to break a tooth, usually infested with bugs, and probably pretty bland tasting.
Limes were also a common item in a ship's galley because their vitamin content helped keep sailors from succumbing to scurvy. But sucking on a lime isn't all that tasty.
Nubbins's culinary style is rooted in tradition, but much more palatable. Here, he puts his own sweet twist on hardtack and limes. By adding only a few extra ingredients, he is able to create a shortbread cookie filled with lime curd. And I was able to wheedle the recipe out of him. Now you can make it too!
~ Nubbins's Hardtack and Lime Shortbread Thumbprint Cookies ~
• 1 cup butter, room temperature
• 2/3 cup white sugar
• 1/2 teaspoon almond extract
• 2 cups all-purpose flour
• 1/2 cup lime curd (recipe below, or use your favorite flavor of seedless jam)
• Powdered sugar
Preheat over to 350º.
Whip together butter, sugar and almond extract. Stir in flour until combined.
Roll into 1-inch balls. Using your thumb*, press a divot into each ball of dough. Spoon in a small amount of lime curd and place on an ungreased cookie sheet.
Bake for 14 – 18 minutes until edges are browned.
Cool on a baking rack and sprinkle with powdered sugar.
Fresh Lime Curd
• 1/2 cup sugar
• 2 tablespoons butter
• 6 tablespoons fresh lime juice
• 1-1/2 teaspoons lime zest
• 1 egg** beaten
Cook sugar, butter, lime juice, and lime zest together over medium high heat, until butter is melted. Remove one tablespoon of hot lime mixture (my new band name) and stir it into the eggs.
Reduce heat to medium. Add egg mixture to lime mixture and stir. Cook until thickened enough to coat the back of a spoon.
Pour into a jar and refrigerate until thick.
*Nubbins lost his right thumb in a cooking accident (but claims it was bitten off by a giant squid). If, like him, your own thumb is unavailable, any spare thumb you have lying around will do.
**Sailors used to refer to eggs as "cackle farts." Really. I imagine it went out of practice because a breakfast of scrambled cackle farts and cheese doesn't sound all that delicious.
Nubbins's "hardtack" won't last 50 years. They are so good, you'll be lucky if they last more than a few minutes.
Maybe you should make a double batch before you set out on your next adventure! …
Thanks, Jen! I really appreciate you hosting me!
xHeidi
The 9YO and I made the cookies and ohmydeargoodness were they delicious! And I don't even LIKE lime flavored things.
About The Author
Heidi Schulz is a writer, reader, and giraffe suspicioner. She lives in Salem, Oregon with her husband, co-captaining a crew made of their teen daughter, a terrible little dog, and five irascible chickens.
Her debut novel for middle grade readers, HOOK'S REVENGE, will be published by Disney•Hyperion on September 16, 2014. A sequel, HOOK'S REVENGE: THE PIRATE CODE, will follow in fall 2015. Bloomsbury Kids will publish her picture book debut, GIRAFFES RUIN EVERYTHING, in 2016.
FOLLOW THE REST OF THE CREW TOUR!
9/25-
Jenny from Supernatural Snark